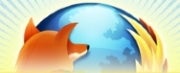 On November 9, 2004, Mozilla's Firefox 1.0 debuted and quickly became a serious contender in the ongoing browser wars. At the time, Microsoft's Internet Explorer dominated the market with a 99 percent market share. Five years later, Internet Explorer still reigns at 65 percent, but Firefox comes in second with an impressive 23 percent.
The battle is far from over, as the field is bloating with more competition. "With additional entrants, most notably Google and Apple, joining the fray there's a massive amount of competition in the browser market that is fueling constant innovation and envelope pushing, from speed and features to the development of the mobile browser," Mozilla wrote in a statement.
Firefox's philosophy is that the Internet is a public resource and should be as accessible and open as possible. Mozilla spreads the word with wide-open arms to developers, who have beefed up the browser's capabilities with more than 7000 add-ons.
Firefox currently has 330 million users worldwide, and celebrated its 1 billionth download in July.
Mozilla is making headway in releasing the latest iteration of its browser, Firefox 4.0. In preparation for 4.0's late 2010 release, Mozilla released the Firefox beta 3.6 last week, bringing with it loads of new features that serve as a hint of what's to come. Interface mock-ups for 4.0 are sure to set salivary glands into overdrive as it borrows crisp aesthetic cues from Microsoft's Vista and promises massive increases in speed.
Keeping up with the world's current obsession with Internet-ready smartphones, Mozilla is also working on Fennec, a mobile browser.

The celebration doesn't stop with press releases and birthday candles — Mozilla is launching a worldwide campaign called"Light the World with Firefox" that will blast the Firefox logo into the skies of cities across the globe. Mozilla also released an illustrated YouTube video telling its story over the past five years. Check out the Spread Firefox site for Mozilla's game plan for the next five years.
There's a lot in store for the little browser that could, and I'm certain millions of people are closely watching its evolution as history unfolds before our eyes.