Have a laptop or netbook and want to get more out of it? You're not alone. We've experienced the frustration of trying to keep data or bookmarks on a portable synchronized with those of a desktop PC or other laptops. We've struggled with diminishing battery life. We've needed assistance getting connected at hotspots or staying safe once online. And we've wondered how to take full advantage of USB flash drives.
But we've found help–and it's all free. Here are ten no-cost pieces of downloadable software that will solve your synchronization, battery, Wi-Fi, and USB woes. They'll make it easier and more fun to get your work done, too.
(If you're eager to download these programs, and you want access to all of them in one convenient place, see our "10 Free Downloads for Your Laptop" collection.)
Synchronization Tools
If you own a desktop in addition to a laptop, you constantly have to deal with synchronizing files and folders between them. If you're not careful, you'll end up working on older files on one computer while the newer versions sit on the other. Worse yet, when copying files between the machines, you might accidentally overwrite a newer version with an older one. The following three freebies solve those problems for you. They can synchronize your files automatically, and they can even synchronize between PCs and Macs.
SugarSync Free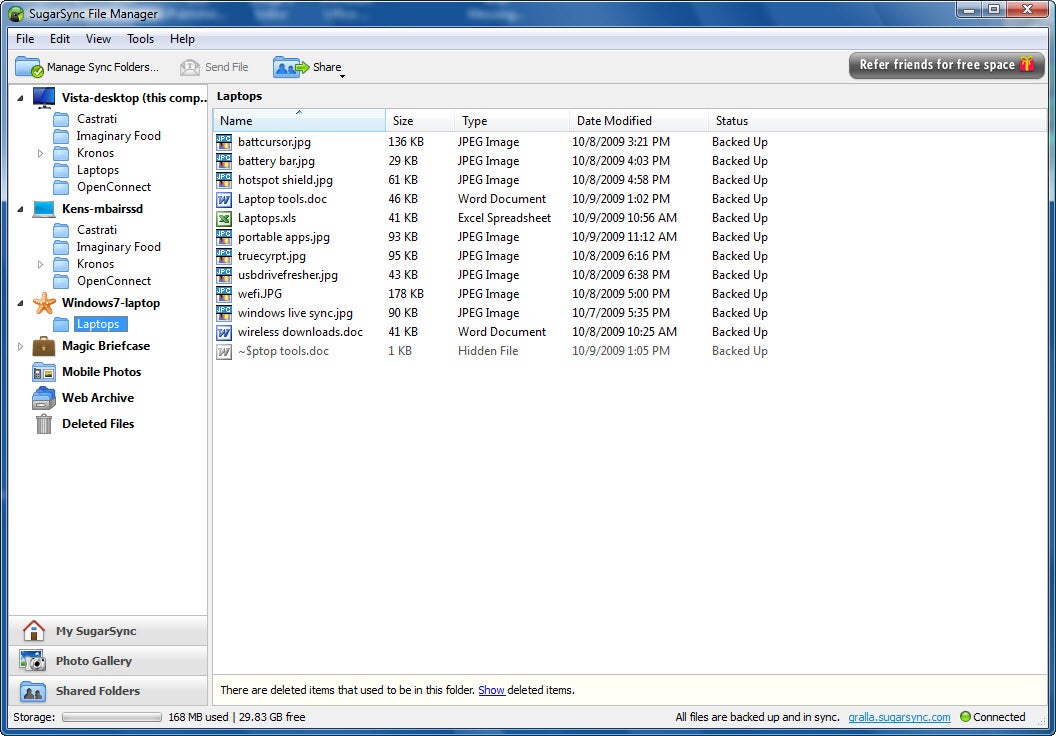 This excellent software does double duty as a synchronization tool and as an automated backup program. Exceedingly simple to use, it offers 2GB of free online backup space, takes up little RAM and few system resources, and works with Macs as well as PCs. All that, and it's free.
Simply install the software on your computers and indicate which folders to synchronize; SugarSync Free then works in the background. If the computer to which you wish to sync is not online, the files will sync to it when it returns. In addition to syncing the files, SugarSync Free backs them up online.
You can do a lot more, too, such as sharing files and folders with other people. The software also keeps older versions of your file online so that you can revert to any of them.
The free edition of the software will synchronize only two computers, and it has a limit of 2GB of online storage space. For-pay versions let you synchronize among multiple PCs and offer faster upload speeds; prices range from $5 per month to $25 per month.
Download SugarSync Free | Price: Free
Windows Live Sync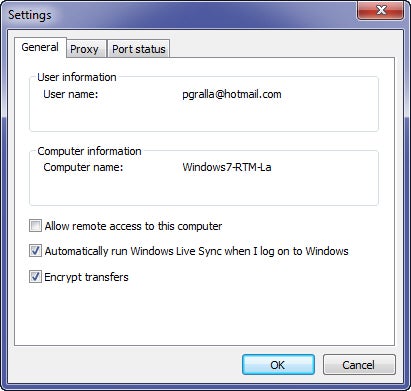 What if you want to synchronize your laptop with more than one other desktop or laptop, but you don't want to spend the money that SugarSync charges for it? Give the free Windows Live Sync a try. With this tool, you can sync folders on as many computers as you want, and you don't have to pay a penny. Keep in mind, however, that this software doesn't include online backup; it only synchronizes folders from computer to computer.
Using Windows Live Sync is even easier than working with SugarSync Free–the method of adding and removing folders is more straightforward. Since you manage everything from a Website, you can set up your synchronization options in a single step rather than multiple ones.
Like SugarSync, Windows Live Sync works with Macs as well as PCs. However, I have been unable to get the software to work with Snow Leopard, the newest version of Mac OS X; if you want to synchronize with a Snow Leopard Mac, you may run into problems.
Download Windows Live Sync | Price: Free
Xmarks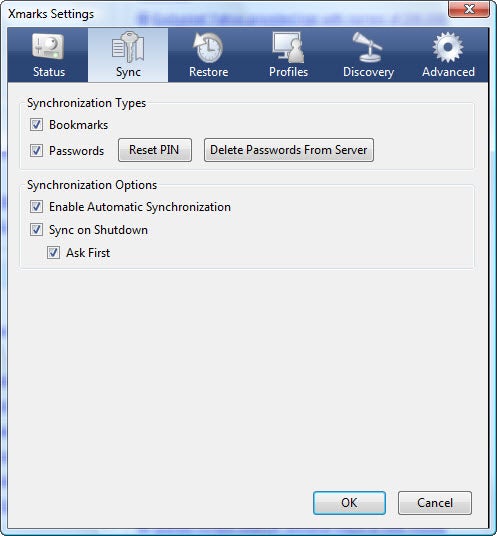 Here's a common problem for laptop owners who also have another machine: How do you keep your Favorites and bookmarks synchronized among all your computers? Let's say that you browse the Web on your laptop, adding a few bookmarks and deleting a few. The next day you use your desktop, but of course it doesn't have the latest bookmark changes you made. Trying to make the corresponding additions and deletions on the desktop's Web browser can be time-consuming–and that's assuming you even remember them all.
Xmarks solves the problem neatly. It synchronizes the bookmarks on multiple PCs, and better yet, it does so between browsers as well: With its help, you can keep Internet Explorer bookmarks on one PC synchronized with Firefox bookmarks on another. The tool even works on multiple operating systems, including Windows, Mac, and Linux.
The software used to be known as Foxmarks; since then, its creators have updated it with additional features, including the ability to offer information about sites when you conduct searches. The extras are useful, but you'll really want this software for its synchronization of the bookmarks on all your PCs.
Download Xmarks | Price: Free
Laptop Battery Managers
Ah, batteries–the bane of every laptop owner's existence. They never seem to have enough power, and they run out far too quickly. These downloads will help you manage your laptop's battery life, and they can even help you get more juice out of a single charge.
BattCursor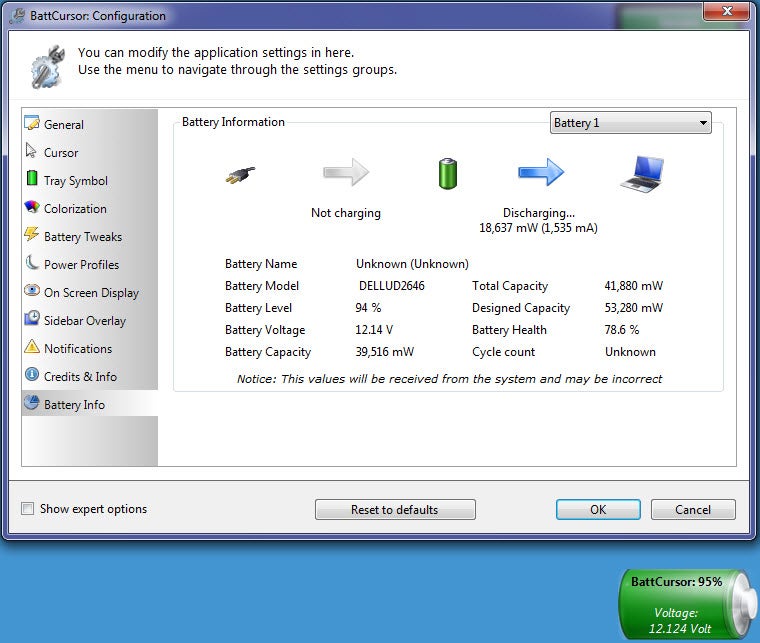 You have work to do, but you know that your battery is starting to run out. So you keep checking the laptop's battery icon to see how much power is left–and every time you check, you waste precious time. Sound familiar?
This clever, free program shows your laptop's remaining battery life on your mouse cursor. The app can display the information on your desktop, as well.
You can have the cursor text's color and transparency level change, depending on the power level. For example, you can set the program to keep the text transparent in cases when your laptop is connected to a power source, but visible if the portable is unplugged and below a certain power level. BattCursor has a lot of extras, too, such as ways to improve your notebook's battery life.
Download BattCursor | Price: Free
BatteryBar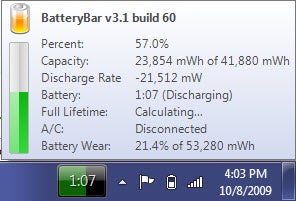 Want to check battery life, but don't like the idea of having your mouse pointer display the text? Here's another alternative. BatteryBar shows, on your taskbar, exactly how much juice you've already used and how much you have left. You can set the app to display remaining battery life either as a percentage or as an amount of time.
Hover your mouse over BatteryBar, and you'll see even more information, including the total battery capacity, the discharge rate, the battery wear, and how much total capacity your battery has in terms of time per full charge.
When you first run the program, it won't appear to work. You'll need to configure your taskbar to display it. Right-click the taskbar, and select Toolbars, Taskbar. Once you do that, the program will appear.
Download BatteryBar | Price: Free
Wireless-Networking Utilities
One of the main reasons to use a laptop is that you can connect wirelessly when you're away from your home or office. But finding a connection–and keeping safe when you are connected–can be problematic. Here are two downloads that can help.
Hotspot Shield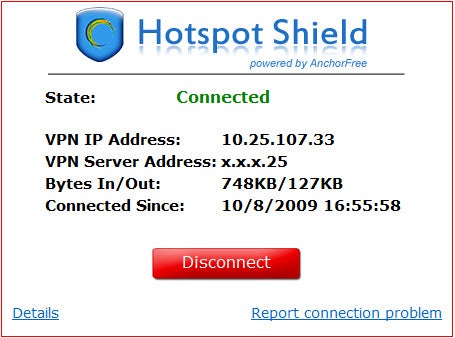 When you use your laptop to connect to a hotspot at a public location such as a coffee shop or airport, you put yourself at risk. Hackers may be able to sniff your data packets, invade your PC, and steal your username and password when you log in to Websites.
Here's a freebie that promises to keep you safe by encrypting your connection when you're at a hotspot so that no one else can read the information you send. The program is extremely easy to use. Install it, and it logs you in to a virtual private network (VPN) that performs the encryption.
A few installation notes: If you don't want various toolbars to install too, make sure to uncheck the boxes next to the toolbar items during installation. And if you don't want your home page and search engine to be changed, uncheck those options as well.
Download Hotspot Shield | Price: Free
WeFi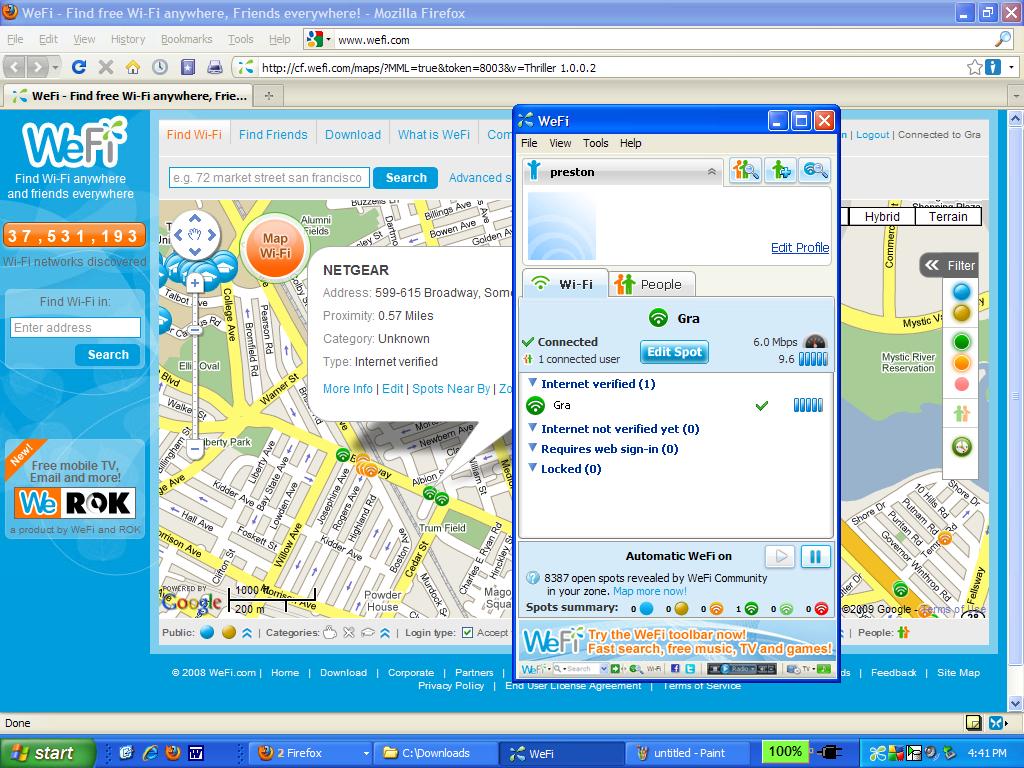 If you're a laptop owner and a fan of social networking, you can combine the two with WeFi. Not only does this program find hotspots so that you can connect to them, but it also finds people to whom you can connect as well. After you install WeFi, the app lists nearby hotspots along with information about each, such as the signal strength and whether the hotspot is encrypted. To connect to one, double-click it. You can also go to a Web page that displays a map of where you are and shows nearby hotspots.
To see people who are connected to hotspots near you, click the People tab. You can then see more information about any of them, and get in touch with them via the software.
WeFi also includes a feature that will warn you away from suspicious Web pages. If you prefer, however, you can turn it off during the installation process: Uncheck the box next to Include Wi-Fi Secure Browsing.
Note that this program will make WeFi Search your home page, establish WeFi Search as your default search, and install a toolbar. If you prefer that it not do that, during the installation process select Custom and uncheck the boxes for Toolbar, Make WeFi Search my default search engine, and Make WeFi Search my homepage. Also, during installation, WeFi will ask you to install a variety of additional software; to be safe, uncheck the boxes next to those items.
Download WeFi | Price: Free
USB Flash Drive Programs
USB flash drives are designed to be portable, just like your laptop. But they can be problematic–for one thing, how can you make sure that your files aren't compromised in the event that you lose your drive? We have a few downloads to help with that, and more.
PortableApps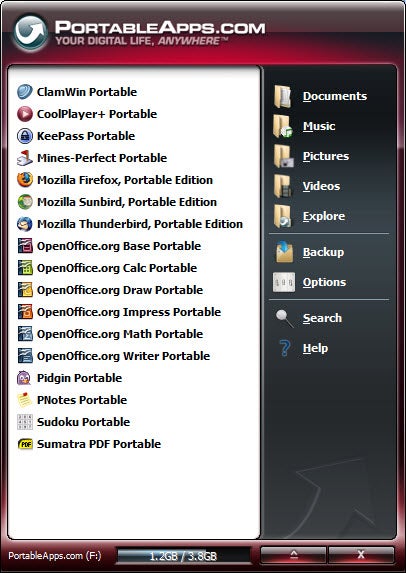 If your laptop or netbook has only a modest hard drive, you may not be able to fit all of your applications on it. Microsoft Office, for example, can occupy plenty of hard-disk space and leave you little room for anything else.
With PortableApps, you won't have that problem. In this download you get a full suite of free applications, including OpenOffice.org, which has a word processor, a spreadsheet, a presentation program, a database, and a drawing program. You'll also find an antivirus utility, a slimmed-down version of Firefox, and more. In addition to the applications, you get backup software, plus a menu that makes accessing all of the programs easy.
The Light version takes up just 150MB installed, and the more full-featured Standard version consumes 355MB. You can install the software on your laptop or netbook, of course, but to save space you can install the programs on a USB drive and even run them from there. You can store your data on the USB drive as well. No matter how little storage space your laptop or netbook has, you'll be set.
Download PortableApps Standard | Price: Free
Download PortableApps Light | Price: Free
TrueCrypt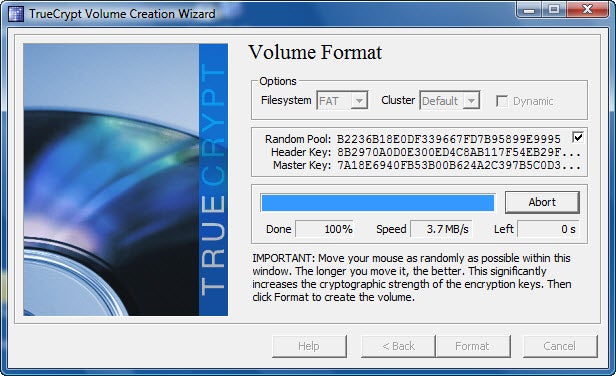 USB drives are a great way to carry work with you when you travel. They're light, they're cheap, and they have enough capacity to handle large image files, hefty documents, and entire presentations. But you can easily lose or misplace them–a serious problem if your files are personal or sensitive.
The free TrueCrypt does an excellent job of keeping your files safe from prying eyes, even if your USB drive falls into the wrong hands. You get a choice of many different encryption algorithms, including the powerful 256-bit AES and 448-bit Blowfish methods. The program will not just encrypt the files and folders, but also hide them so that no one but you knows that they are there.
This isn't the most intuitive of programs to work with, so take some time to read the manual and be sure to use the program's built-in wizards.
Download TrueCrypt | Price: Free
USBDriveFresher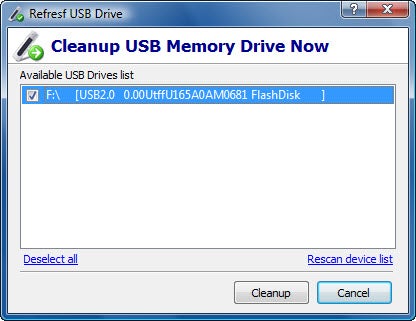 The more you use a USB drive, the more it becomes cluttered with excess files. For example, your drive may have old Thumbs.db files, which Windows uses to display thumbnails of pictures–but if you don't keep the pictures themselves on the drives any longer, there's no point to retaining the .db files. You may also notice odd file names that start with underscores, and other weird bits and pieces that serve no apparent purpose.
USBDriveFresher is a simple little program that automatically cleans the clutter for you. Run it, and it sweeps out unnecessary files so that the drive contains only the items you want. You can have the program do its work automatically whenever you plug in a USB drive, or else manually run the app. You can also customize which files it should clean.
Download USBDriveFresher | Price: Free