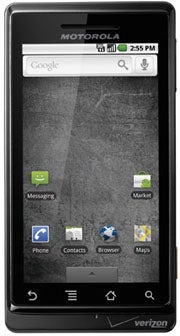 Well, that didn't take long: Just three days after the Droid dropped, and we already have our first leaked-document-style rumor. What is this, the iPhone or something?
The new Droid buzz, as tends to be the case with these things, comes by way of an anonymous tipster. The alleged insider tells Android fan site Phandroid.com an over-the-air update will hit all Droid devices on December 11, with a possible second update scheduled to follow in January.
Motorola Droid: The Updates
According to documents published on the Phandroid site, a laundry list of Droid-related fixes will be made within the upcoming patch or patches. Among the glitches said to be up for correction:
• The character count doesn't show up in the messaging tool until you've reached 160 characters.
• Initiating a three-way call doesn't work properly in certain regions of the country.
• You can't currently transfer contacts directly via Bluetooth.
• Camera autofocus doesn't always work on the first try.
• Sound occasionally echoes back during a voice call.
• Disconnecting a 2.5-mm headset adaptor can cause the media-playing software to launch automatically.
• The phone can lock up when you're editing recurring appointments with large invite lists in an Exchange-synched calendar.
• Videos uploaded to the phone via Bluetooth show an incorrect date and time.
The documents mention a handful of other issues, most of which are relatively minor problems that appear to affect specific subsets of users.
Droid Discussions
Are you a new Droid owner — or thinking about becoming one? Check out these Motorola Droid resources for more information:
• My First Weekend With the Moto Droid: A PC World editor's detailed thoughts on his first few days owning a Droid.
• Verizon's Droid Launch: Your Complete Guide: A collection of Droid specs, pricing info and purchasing information, along with reviews from all around the Web.
• Verizon's Droid: 10 Apps to Get You Started: Ten top-notch Android applications to consider when getting started with your new Droid phone.
JR Raphael cooks up geek humor at eSarcasm. He highly recommends the Sweet and Sour iPhone, a delicacy any Droid owner would enjoy.