On Monday Apple released an update to its Snow Leopard operating system (10.6.2 ) that fixes flaws, including one that wipes out a users' personal data. But along with fixes, Apple's update also kills support for Intel Atom processors, in a bid to stop users from hacking their netbooks and creating "hackintosh" systems.
The Snow Leopard 10.6.2 update addresses over 100 general fixes, 43 being security related. One of those fixes addresses the highly publicized bug that wipes a users' home folders when logging in with a guest account. This is the second update since Snow Leopard was released at the end of August.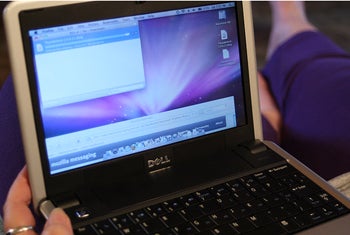 However, the 10.6.2 Snow Leopard update was highly debated since before public launch, as developers reported the update did not support Intel's Atom processor, which powers many of today's netbooks. This made it difficult for users who installed OSX Snow Leopard on regular netbook computers to update to 10.6.2, as their processor was not supported anymore.
Reports then emerged last week that Apple is not actually removing Intel Atom processor support from the 10.6.2 update, and hackintosh netbook users sighed with relief. But it was a short lived moment, as the public Snow Leopard 10.6.2 release of the OS on Monday is reported to have indeed removed support for Intel's low-power processors.
Several sources are now confirming the lack of Intel Atom support from the 10.6.2 update. Although this will make it more difficult than before to install Mac OSX on regular non-Apple hardware, modders say someone will eventually come with a workaround.
A hackintosh is basically a regular PC, not manufactured by Apple, which runs the OSX operating system after several hacks in the OS's code. This sort of hacking is unsupported by Apple but many run it on a personal basis. Apple has previously taken a legal stance on hardware manufacturers such as PsyStar that sell regular computers with Apple OSX preinstalled. OSX Snow Leopard has also become in recent months a favourite for hackintosh netbook modders, as the OS gives them better performance and battery life on their unsupported hardware.