At a Glance
Expert's Rating
Pros
Excellent POI handling with built-in AAA tour book
Large, bright 7-inch screen
Cons
No traffic receiver
Video input didn't work as expected
Our Verdict
If your vehicle can accommodate a GPS device with an enormous 7-inch screen, the RoadMate will prove to be a worthwhile travel companion.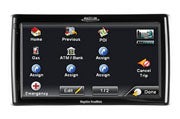 If you're looking for a portable GPS navigation device with a mammoth screen, Magellan's new RoadMate 1700 ($300, as of November 4, 2009) could be just the thing. Measuring 7.5 by 4.2 by 0.6 inches and weighing in at a hefty 10.7 ounces, the 1700 is big enough to pack a gigantic 7-inch screen.
Bigger is not always better, though. In a large vehicle, such as an RV or a truck, the RoadMate 1700 is probably the perfect size, as the distance between the driver and the GPS is greater than in an automobile. In my Camry, though, the 1700 took up too much dashboard space and, depending on the mounting location, created distracting blind spots.
The RoadMate 1700 includes many of the features you'd expect to find in a premium GPS. It includes maps for the United States (all 50 states), Canada, and Puerto Rico. Maps for Mexico are preinstalled, but you have to purchase an activation key ($50) to use them. The device also includes a robust database of 6 million points of interest, along with the AAA Tourbook, and supports multidestination routing. Absent, however, are a Bluetooth phone interface (a feature reserved for Magellan's premium Maestro products) and a live traffic receiver. Unfortunately, you can't upgrade the 1700 by adding an optional traffic receiver.
A feature unique to Magellan products is One Touch, which provides single-tap access to shortcuts for locations that you can define, or for searches. For example, you might define a search for the nearest Bank of America ATMs or the nearest Starbucks. The RoadMate 1700 permits you 12 more user-defined shortcuts than the RoadMate 1470 does.
The map view is clean and uncluttered. An icon in the upper right corner takes you to the One Touch shortcuts. Icons for zoom in and zoom out appear at the center bottom of the screen. In the lower left corner, a data field cycles through time, elevation, direction, and speed. When a route is active, the data field adds content for distance to destination, time remaining, and estimated time of arrival.
While the device is actively navigating, Magellan's text-to-speech gives clear directions and pronounces street names well. Route recalculation time after a missed turn was acceptably fast in my road tests. The unit has plenty of volume even on the noisiest of roads. I do wish, though, that Magellan had linked the volume to the vehicle's speed, as some other GPS devices do. The highway volume verged on too loud at local street speeds. One nice–and unique–navigation feature is the ability to calculate different routes according to four criteria (shortest, fastest, least use of highways, most use of highways) simultaneously.
Like otherMagellan products, like the Maestro 4350, the 1700 excels at handling POI information. You can search POIs by name or you can search the 27 available categories. You can limit each POI search to places near your current location, near an address, or near a city. In addition, if you have defined a route, you can specify search results along that route or near your destination. Further, you can control which POI categories' icons appear on the map view. One POI category that I use as a One Touch shortcut: 'Nearest Rest Areas'.
Another standard Magellan feature on the 1700 is QuickSpell, a feature that speeds data input by highlighting only letters that will result in a search match. 'Highway lane assist' shows you the correct lane to be in for your next maneuver, along with a representation of the highway road signs. 'Highway exit POIs' shows points of interest for upcoming highway exits.
The RoadMate 1700 comes with an AV input jack for displaying video. In my tests, however, the 1700 woouldn't display standard NTSC composite video, and Magellan's tech support indicated that this state of affairs was to be expected; still, it shouldn't be an issue unless you want to install a backup camera.You get fewer route navigation avoidance options with the 1700 than with some competing GPS devices, but you can choose to avoid U-turns–a feature that RV owners will probably appreciate.
For people who like the idea of having a 7-inch portable GPS and whose dashboard or console real estate is spacious enough to accommodate it, the RoadMate 1700 will make an excellent traveling companion–the best in its class. But if you drive a smaller car, it may not be the best fit.