It may be the biggest snafu Microsoft's seen since Vista. In an interview with PCR, a British trade publication, a Microsoft manager implied that Windows 7 was based on the anti-Windows itself: Mac OS X.
The manager's name is Simon Aldous. And his remarks are igniting what could become a holy war among the world's most ardent fanboys.
So who is this Simon Aldous guy, and where did he come from? We did a little digging to find out.
The Windows 7-Mac Remark
We'll get to Aldous's background in a moment. First, let's dive into his present, and the PR nightmare he's inadvertently created.
In his PCR interview, Aldous stated that people often gloat about Apple's "fantastic" and "easy to use" operating system. Then came the words no Microsoft manager was ever meant to utter:
"What we've tried to do with Windows 7, whether it's traditional format or in a touch format, is create a Mac look and feel in terms of graphics."
The reporter followed up with a question that no doubt solidified the public's perception:
"So you've taken the style of the Mac platform and built it on the more solid foundations of Vista?"
Microsoft's Response
Microsoft didn't take long to spring into action. In a blog posted less than 24 hours after the PCR story, a company representative described Aldous's statement as "an inaccurate quote." And the internal smackdown didn't stop there.
"Unfortunately, this came from a Microsoft employee who was not involved in any aspect of designing Windows 7," the blog says. "I hate to say this about one of our own, but his comments were inaccurate and uninformed."
Ouch.
Meet Simon Aldous
Aldous's future is anyone's guess. We do, however, know a bit about his past and how exactly he came to work within the Microsoft machine.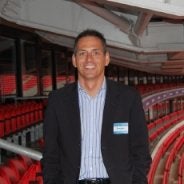 Aldous — not to be confused with the producer/screenwriter of the same name — signed on with Microsoft around the fall of 2006, according to reports published at the time. Multiple sources indicate he had previously worked as the director of volume marketing at Computer 2000, a British IT product and service distribution firm. He reportedly left the company that July, citing "personal reasons" for his resignation.
Media stories describe Aldous as Microsoft's UK distribution chief, working primarily with vendors and catalogue partners. His goal, as stated by an October 2006 story in CRN: "driving the UK breadth of [Microsoft] partners in order to achieve double-digit growth and increase reach to and yield from end-users." Translation: not exactly an operating system development kind of guy.
According to a LinkedIn profile registered in Aldous's name, his full Microsoft title is SMB (small- and medium-sized business) and distribution director. The profile goes on to note that he is "an experienced senior manager working at director level within the IT industry and e-commerce marketplace."
Finally, in an unfortunate twist of irony given the current situation, the profile lists his strength as "identifying commercial opportunities and translating this into successfully implemented business strategy."
Defending Aldous
To be fair, at least one apparent associate of Aldous's has come forward to speak in his defense. A commenter writing on The Windows Blog under the alias "I-dont-do-tat" stated the following:
"I know Simon Aldous, having worked in the same UK subsidiar (sic) as him for a few years. He's a good guy who, for me, is telling it like it is. He's paying testament to the common view that a Mac is cool and a great template to copy.
"Then denying this to your customers just makes you look stupid because the very look and feel of Windows 7 is desperately trying to look like a Mac OS — just admit it."
Whichever side of the holy war you're on, I think we can all agree on one thing: Now is not the best time to be a guy named Simon Aldous.
JR Raphael is co-founder of geek-humor site eSarcasm. Though a PC user, he's not above occasionally imagining a world without Microsoft.