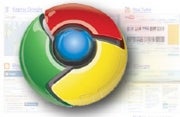 Google's much-anticipated operating system, Chrome OS, will be available for download next week, or so goes the latest buzz on the Internet. The latest talk about Google's operating system is courtesy of TechCrunch's Michael Arrington, who says this information comes from a "reliable source." This is the second rumor saying an early release of Chrome OS was imminent.
Last month, various sources in China were claiming devices running preview builds of the OS would be available for purchase as early as November. It also follows a string of premature reports of sightings of the OS in the wild that all turned out to be incorrect reports.
While Arrington's rumor may sound exciting, it's actually not that surprising considering Google's past statements. But if you're hoping to have Chrome OS running on your laptop before Thanksgiving you might be disappointed.
The Rumor
An early version of Google Chrome OS will be publicly available next week, according to Arrington. He also says this rumor falls in line with previous plans to release an early version of Chrome OS this fall.
Arrington also believes the early build of Chrome OS will lack support for hardware drivers, which have yet to be built. From the sounds of it, Arrington is talking about driver support for basic hardware components like network and graphics cards as opposed to peripheral equipment like printers and scanners. "A robust set of functioning drivers is extremely important to Chrome OS's success," Arrington said. "People will want to download this to whatever computer they use and have it just work."
Without driver support the OS will be essentially useless. So Arrington's best guess is that Chrome OS will only be ready to work on a small number of computers at launch, such as the Asus Eee PC and possibly some of Google's Chrome OS partners like Acer, Toshiba, and Hewlett-Packard.
Will We Really Get a Glimpse of Chrome OS Next Week?
When Google announced its new OS last fall the company said they would open source the code for Chrome OS "later this year." That would fall in line with Arrington's rumor, but Google also said that netbooks running Chrome OS wouldn't be available for consumers until the second half of 2010.
So what's likely to happen next week is that Google will make good on its promise and release the Chrome OS source code to developers. But that doesn't necessarily mean the average person will be able to download these files and get the OS up and running. Source code is just a collection of text files meant for software developers to tinker with.
As I understand it, to get the source code to work as a computer program, you need a compiler that brings all the source code together and turns it into something your computer can actually boot up.
So if Google is only releasing source code and not actual builds of the Chrome OS, getting it to work will probably be out of reach for most users. To give you an idea of how technical building from source code can be, check out Google's page detailing how to build your own version of Chrome for Mac. Good thing Google has already released a developer build that you can just download and install the easy way.
But who knows? Maybe Google will release a Chrome OS build that anyone can download and test. I sure hope so, but somehow I doubt it.