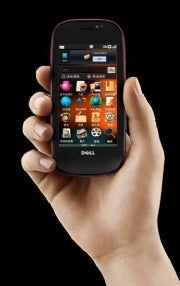 In an announcement that surprised no one, Dell Computers took the wrapping off its Android-based Dell Mini 3 smartphone on Friday.
Dell did not provide a launch date, but the company did say the phone would be available only in Brazil and China to start. That doesn't mean the Mini 3 will never reach American carriers, but don't count on it any time soon.
A Mini 3 History
Earlier this year rumors were circulating that Dell's smartphone project had been canceled due to lame specs and lack of interest from carriers. The day after that rumor came out, CEO Michael Dell reignited handset rumors after he said "it wouldn't be unreasonable" to expect the computer maker to release a smartphone in the future.
Those comments were followed by rumors that Dell was producing a smartphone for the Chinese market. Then in August, a prototype reportedly surfaced at a promotional event in China.
Who Gets the New Phone at Launch?
The Mini 3 will be available in Brazil from the national carrier Claro and from China Mobile in the world's most populous country. The two carriers serve more than 542 million customers combined.
Will the Phone Come to the U.S.?
It's not clear whether the Mini 3 will ever show up in the U.S., and that may not be such a bad thing considering the phone's rumored specs (see below). But Dell was quick to point out in its announcement that the company already sells 3G netbooks through AT&T and Verizon, as well as many other carriers around the world.
Dell hinted that these relationships with carriers could mean "more opportunities to meet the needs of a connected lifestyle" in the future. In October, there were reports that Dell may offer a smartphone through AT&T as early as next year.
What are the Phone's Specs?
Dell did not release any specs for the Mini 3, saying information would only be available on a partner-by-partner basis when the device is available in stores. This suggests Dell will be tailoring the Mini 3's feature set for the particular tastes and needs of each country where the device is sold. This is also supported by the fact that in China, the Dell is baking China Mobile's Ophone platform — a modified version of Android — into the Mini 3.
When a prototype of the device surfaced earlier this year, the Mini 3 (then known as the Mini3i) was believed to have a 3.5-inch touchscreen with
360-by-640 resolution, mini USB port, SD card slot (no word on maximum storage size), and a 3.2-megapixel camera. The Mini3i was also thought to be a 2G device with no Wi-Fi connectivity. However, considering China Mobile's recent desire to improve its 3G offerings, it's safe to assume Dell's Mini 3 has been bumped up to 3G capability.
With or without 3G, the Mini3i's rumored specs were so lame they only reinforced earlier reports that Dell's smartphone was a real stinker. If the Mini 3 is to have any impact in the U.S., the company would have to step up its game for a market that is becoming increasingly crowded with BlackBerrys, Droids and iPhones.