Verizon made some minor adjustments in the latest series of 3G coverage ads, but AT&T is not impressed. AT&T has expanded its initial complaint and request for injunction to include the new ads, and has issued a statement to 'set the record straight' about the Verizon claims. Do the ads really deserve this much attention?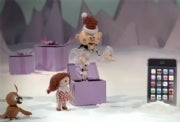 First of all, what does AT&T hope to accomplish? If the goal is to prevent customers and prospective customers from learning about its sparse 3G coverage, filing a lawsuit and drawing the attention of the media was not a good strategy. The net result is a bunch of free advertising for Verizon.
The AT&T response with the letter to existing customers to set the record straight is not very convincing. I get it. You concede that your 3G coverage is sparse, but you think I should be satisfied with your much broader 2G EDGE coverage. News Flash: mobile devices increasingly rely on broadband speeds and multitasking. While you harp on your expansive 2G coverage, your competition is rolling out next generation 4G networks.
All of this misses the point, though, that the ads really just don't matter. The Verizon ads are clever, but even clever ads don't necessarily sway purchasing decisions. I am an AT&T customer. I can appreciate that the Verizon ads are clever even though I have no intention of switching to Verizon.
I realize that marketing is a necessary evil. Even established brands that are household names like McDonald's and Coca Cola still spend millions on marketing just to maintain brand recognition and plant some subliminal seed that will hopefully impact your decision next time you are hungry or thirsty.
The choice of a wireless service provider is often dictated by outside factors. Device exclusivity forces customers to choose the wireless provider that has the mobile device they are interested in. For customers in many regions choice is limited by which providers even have coverage in that area.
We live in a Web 2.0 world. We have Facebook and Twitter. Amazon, and Best Buy, and other sites provide a platform for customers to rate and review products, and provide detailed descriptions of their real-life experience with the product.
Purchasing decisions today are swayed much more by word-of-mouth through social networking, and by the feedback provided by real customers. Is anyone really that swayed by a TV commercial or marketing campaign any more?
As clever as the Verizon ads are they won't cause customers to defect from AT&T. They won't even cause prospective customers to choose Verizon over AT&T if Verizon doesn't have the device they are interested in (perhaps you have heard of the iPhone?).
AT&T is making much ado over nothing, and exponentially increasing the exposure of the Verizon ads in the process. Let it go AT&T. Focus on improving and expanding your network. There is nothing to see here folks, move along.
Tony Bradley tweets as @PCSecurityNews, and can be contacted at his Facebook page .