Cell phone lovers, get ready to rumble: AT&T and Verizon are duking it out in an ad-based battle, and the fight isn't showing any signs of slowing down. Now, some new data suggests the public is starting to take notice.
AT&T's Verizon Ad Battle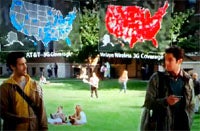 First, let's set the scene: In one corner, you have Verizon. The company recently launched a series of ads attacking AT&T's 3G network. The spots, revolving around the phrase "there's a map for that," show side-by-side maps of AT&T's and Verizon's networks and claim Verizon has five times more 3G coverage. Combine those with the ongoing series of iPhone-bashing Droid commercials, and you've got a powerful one-two punch heading straight toward AT&T's kisser.
In the other corner, of course, is AT&T. The company that's taken countless beatings over its network is taking a stand against this latest round. AT&T sued Verizon over the 3G-focused ads, claiming the clips were misleading and causing the loss of "incalculable market share."
To be clear; AT&T's beef isn't with what the ads say about its 3G network, but rather what it believes the ads might imply: The maps, AT&T says, could lead a consumer to believe the company has no wireless coverage whatsoever in the whited-out areas, rather than believing only that it has no 3G coverage in those spots (a fact AT&T does not dispute).
"Through the use of a coverage map in [Verizon's] ads, they suggest through all white or blank space not only that AT&T doesn't offer 3G coverage but [also that it offers] no coverage at all," a spokesperson says.
The ads, by the way, feature clear captions that indicate it is the 3G networks being compared.
Now, AT&T's taking things a step further. The company issued a public statement this week to "set the record straight" with its customers. It also expanded its initial complaint to request Verizon pull its more recent ads, too — the ones that show an iPhone on the "Island of Misfit Toys."
AT&T vs. Verizon: The Public Perception
Okay — caught up with all the drama? Good. Now here's the important part: The ads, and perhaps the surrounding bickering, are in fact making a difference.
According to BrandIndex, a service that measures thousands of consumer brands year-round, public perception of Verizon has shot up since its ad campaigns began in October. AT&T's public perception, at the same time, has plummeted.
BrandIndex surveys a representative sample of the U.S. population every weekday. Prior to Verizon's recent campaign, Verizon had a "buzz score" among adults 18 to 34 years old of 8.3, while AT&T measured 1.4. By the end of last week, Verizon had jumped up to 24.2 and AT&T had dropped to -2.4. The buzz score ranges from -100 to 100 and represents how much positive news people report hearing about each company.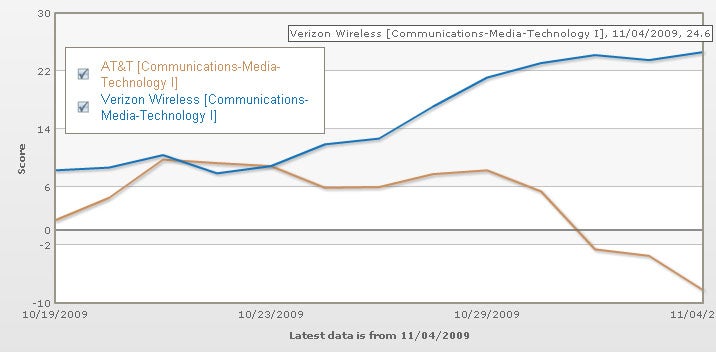 Perhaps even more telling, BrandIndex also measured how willing people said they were to recommend AT&T versus Verizon. In late October, the two companies were tied with scores of nine (on the same -100 to 100 point scale). By early November, Verizon had climbed up to 25, while AT&T had fallen to -8.
If all of that's not enough, the number of people reporting they're satisfied with AT&T has dropped in the past few weeks, too, according to BrandIndex's data — while the satisfaction score for Verizon has remained constant.
"It's a pretty significant movement," says Ted Marzilli, global managing director of BrandIndex. "A fair number of people are believing or responding to Verizon's positive message, and they're also second guessing or altering their opinions of AT&T."
The effect could be a combination of the map-driven ads and the general buzz surrounding Verizon's launch of the Motorola Droid, Marzilli points out. And how long the impact will last, he says, is hard to gauge.
Regardless, it seems the majority of bloggers agree upon one thing: Whatever damage Verizon's ads may be doing, AT&T's flailing is only making it worse. The company could stand to take a lesson from a lifeguard: When you're drowning, the worst thing you can do is kick and scream. It only makes you sink faster.
JR Raphael is the co-founder of geek-humor site eSarcasm. You can keep up with him on Twitter: @jr_raphael.