Google is being sued by a Swiss watchdog agency for allegedly failing to take adequate measures to protect privacy. The legal battle in Switzerland is just the latest in a long line of privacy issues with Google and illustrates the challenge of providing as much information as possible without violating privacy concerns.
The debate in Switzerland is over Google's Street View image indexing. Hanspeter Thuer, the Swiss Federal Data Protection and Information Commissioner (FDPIC) made recommendations to Google to address concerns with Street View images displaying car license plates and people's faces. Google claims it has taken strides to comply with those recommendations, but the FDPIC doesn't feel Google has done enough.
This isn't the first time Street View has gotten into trouble over privacy. Google has also faced backlash over Street View in the United Kingdom, Canada, Greece, and Japan. One concern in Japan, which has been echoed in Switzerland, is that the height of the car-mounted Street View cameras is capable of seeing over fences and into homes. Greece is distressed by how long Google plans to maintain the Street View images in its database.
Google's privacy issues are not restricted to the Street View images, though. Google Latitude, a GPS mapping and tracking service, keeps track of your location in real-time and maintains a mapped database of previous locations. Google recently launched a new feature allowing you to set up alerts that can notify you when a friend is nearby. The cool factor is tempered with a creepy Big Brother vibe.
The list goes on and on. There are privacy issues related to Google Social Search, Google recently modified indexing of Gmail messages to address concerns over transcribed Google Voice emails showing up in the search engine, and even the embryonic Chrome OS has raised privacy concerns.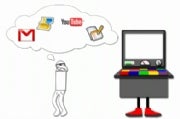 Google recently unveiled the Google Dashboard to address privacy concerns. The Google Dashboard displays all of the information associated with your Google profile, providing you with an at-a-glance resource to see just how much Google knows about you. But, the Google Dashboard itself also has privacy and security implications as well.
It is a difficult balance for Google to manage. If you read books like Database Nation by Simson Garfinkel, or The Soft Cage by Christian Parenti, you come to the realization that privacy is largely an illusion at this point. Technology has brought us to the point where, unless you live in an unmarked cabin in the Rockies and live off the land, data about you is being indexed virtually everywhere. Privacy is a myth.
That doesn't mean we should all just give up and accept that we have no privacy. On the contrary, perhaps it suggests we need to be more vigilant about protecting what little privacy we might have left.
Google has to struggle with the conflict of interest between indexing all of the data in the world, and protecting privacy. Not only that, but Google must also to tailor its indexing and business practices on a country by country basis to comply with local data protection and privacy regulations.
My fellow PC World writer David Coursey has pointed out that Google has not yet done anything to lead us to believe it has evil intentions for our data, but the data is still there on the Google Servers.
Coursey ponders what might happen following another 9/11-caliber terrorist attack "Would Google provide information it has about suspects? Use its data and profiling capability to find more suspects? If it did, how long would it be before we knew? And where, exactly, is the line between patriotism and invasion of privacy?"
That is a valid question. Google has to continue strike a balance between information and privacy, and users need to grasp that the convenience provided by Google's products and services comes at a cost.
Tony Bradley tweets as @PCSecurityNews, and can be contacted at his Facebook page .