Has there ever been video or photo coverage of terrorist violence that hasn't seemed somehow detached from it? All our images of Oklahoma City are post-op shots of a cratered nine-story federal building. Videos of the planes crashing into the Twin Towers are generally from distant vantages. The short clips of Eric Harris and Dylan Klebold terrifying fellow high school students with Hi-Point 995 carbines and TECH-DC9 semi-automatic pistols played endlessly by cable news channels are from blurred, black and white security cameras, and Harris and Klebold aren't in most of them.
The "No Russian" level in Modern Warfare 2 that requires you accompany and optionally assist a group of Russian gunmen in an airport massacre isn't much like Columbine. If that's your reaction, it's only because Columbine's the only frame of reference we have. "No Russian" puts you on the firing side of a terrorist onslaught in a vivid realtime tromp through a photorealistic Moscow airport. Columbine amounted to sequences of grainy videos from awkward angles–peripatetic moments played relentlessly by the media in voyeuristic slow-mo.
It's not much of a reference point.
"No Russian" offers you a chance to experience what a massacre might be like from the terrorist vantage under the assumption that you're a CIA deep-cover operative playing an "ends justify means" game. You open on blackness, the only sounds those of elevator floor beeps, duffel bags unzipping, and weapons hastily assembled as clips snap into stocks. The world coalesces and focuses on the honcho, Makarov, a guy with crazy eyes and wiry black hair. Before you step off the elevator, he warns "Remember, no Russian" (note the homophone–you're forced to walk for much of the level). It's all a big frame-up. The guns you're carrying are M240s and M4A1s, both US military issue, and you're a CIA operative pretending to be a Russian ultranationalist pretending to be an American terrorist.
Events proceed apace. Makarov and pals make short work of anyone in firing range, leveling high-caliber machine guns at clustered civilians and mowing through crowds like penned cattle. Terrified, heart-rending wailing rises above the chucka-chucka-chucka-chucka noise from the guns. The gunmen scour the baggage area, spotting fleeing civilians and firing in bursts. They proceed up stairs, lobbing ballistic grenades across the concourse, scanning for victims, zooming down iron sights to zero in, and leaving the crawling wounded to bleed out.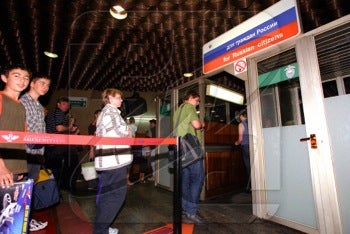 It's backside-of-your-head-smackingly-obvious Infinity Ward wants to make you uncomfortable. To fire or not to fire, that's the only question the level asks, allowing you time to scrutinize the bedlam in a way the rest of the game's frenetic gunplay doesn't. "Isn't this disturbing?" the silent cameraman (that would be you) seems to ask as you thumb your lens around to better view scripted animations of stampeding civilians, or of the mortally wounded inching for cover, leaving gleaming smears of blood in their wake.
And it is–incredibly disturbing. Even though you know the computer avatars representing civilians are empty shells. Even though you know that's not a gun you're holding, and that it's not firing actual bullets, and that you're not, in fact, harming anyone.
If someone actually walked into the Sheremetyevo International Airport (renamed 'Zakhaev' here to commemorate the last game's fascist lunatic) and proceeded to fire indiscriminately into crowds of people, all we'd know of the incident would be the aftermath's grisly tableau. "The event occurred at 8:41AM Moscow standard time," the news report might go, "when a group of men carrying automatic weapons entered the Zakhaev International Airport located 18 miles northwest of Moscow and began firing randomly into the crowd. The number of estimated dead at this point is in the hundreds but officials worry it could grow into the thousands…"
That's the angle you're familiar with. The detached one. The one where the camera roams the airport in the aftermath like a documentarian ex post facto, immortalizing bits of shattered glass and bullet-chiseled concrete and streaks of blood.
"No Russian" puts you in the driver's seat of the act itself. It lets you have an unflinching look at the fire's angle on the firestorm, where other games just bring up cutscenes before giving you a chance to go after the guys responsible.
But is that enough? Is "to fire or not to fire" sufficiently elective? What about the choices the level doesn't let you make? What about the level's context?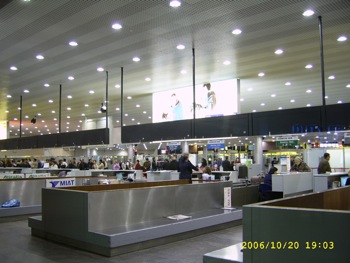 You can't kill Makarov, for starters (he's immune to gunfire from all sides), but that's nothing new. You can't kill a lot of people in a lot of games for the sake of preserving their broader narrative. Games aren't supposed to be infinitely fractal. The notion that gaming's uniquely a medium that allows you to make choices doesn't mean every choice. The technology and design scope present limitations. The burden isn't on game designers to anticipate and reward every possible play contingency.
Put another way, Modern Warfare 2 is an unabashedly linear, plot-driven game. Everyone familiar with the franchise knows this. No one's expecting an experience that lets you dash out of the airport, hijack an ambulance, then ride around Moscow picking up the injured for transport to hospital before calling Michelle to grab a burger and go bowling.
That said, you are allowed to shoot Makarov without automatically resetting the level (he just says "You traitor" and his goons come after you). At least you're offered the satisfaction of firing at him until he finally drops you. Shoot any of his compadres–two of whom die automatically anyway–and it's an instant "You blew your cover…don't fire on Makarov's squad."
But taking shots at Makarov's the brain-dead obvious choice, anyway. What about the more interesting others? Like: Why can't I race ahead and hand my gun off to someone? Slip them a grenade or two? Why can't I take Makarov hostage? Why can't I step into the line of fire on purpose? Why, for that matter, can't I put a bullet in my own brain?
We already know what happens if Makarov dies. The whole thing goes off. The story changes completely. Use your imagination to extrapolate, then tack on the fact that you're conjuring a story Infinity Ward isn't interested in telling.
There are serious issues with "No Russian," but the inability to kill Makarov isn't one of them.
Like: Why do Makarov and his thugs ignore you if you don't fire? Wouldn't that alone be enough to rouse their suspicions? Where's the narrative pressure on me to pull the trigger here? Why am I permitted to lag behind the group without reaction? Gaping flaw number one.
Gaping flaw number two: Modern Warfare 2 can't tell a decent story to save its life. It's littered with brainless platitudes like "The more things change, the more they stay the same," and "History is written by the victor," and "Yesterday's enemies are today's recruits." It rushes you along too quickly to make sense of who's who or why this cause produced that effect in its panicked haste to get you back behind the barrel of a gun.
At the outset of "No Russian," your commanding officer trots out a few aphorisms like "front lines are history" and "uniforms are relics" to convince you the ends justify the means before dropping you in that Moscow airport elevator. There's no dramatic buildup, no serious intel on the group you've infiltrated, and no chance to relate to what's about to happen.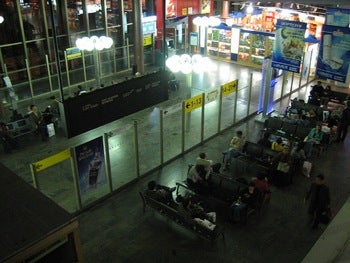 In reality, you'd know well in advance what you're about to do and have to rationalize your apathy toward it. You'd have to objectify the victims of your "noble" endeavor. You'd have to agonize. You've have to be fully convinced what you were about to do was, as your CO implies, for the greater good of all.
Here, that's conveniently done for you, so that it's impossible to empathize with anything. As a player, you don't know the level's coming (assuming you stayed off the Internet prior to the game's release) and so you're like Scott Bakula in Quantum Leap, beamed cluelessly into the body of Private First Class Joseph Allen (whose sangfroid for a lowly Pfc. is astonishing) at the last possible moment. It feels dishonest, like a get out of jail free card for both the developer and the player, a way to safely insert the level in the game while creating a kind of plausible emotional deniability by removing all the dramatic impetus that ought to surround it.
Levels in any game need reasons to be. They have to integrate into the broader story in a way that's earned. "No Russian" has all the stage design and costumery of an Important Gameplay Experience, but it's missing actors and compelling performances, making it less disturbing than disappointing. The lesson for Infinity Ward is this: If you want to insert emotionally complex, risky gameplay into a B-story franchise, you'd better up your story all around, or risk coming off as tabloid.
Follow me on Twitter @game_on