Suppose you have just taken an award-winning photo with perfect composition, great exposure, and a Pulitzer Prize-worthy subject. Or, at the very least, you've managed to avoid the five most common photo mistakes, and you want to hang the result in the living room.
In the old days, photo printing was left to the professionals who developed our film. These days, though, we often print our digital photos at home, on our own equipment. All our hard work is for naught if we don't take care during the printing process. That means we have to master the art of photo printing.
This week, I've got five tips to help you get better results from your inkjet photo printer.
1. Choose the Right Print Size
Computers are obedient machines: You can tell your PC to print a photo at any size and it'll comply. That doesn't mean the results will be any good, though. You need enough pixels in your image file for the printed-out photo to be sharp at the desired print size. There are a lot of factors that go into print quality, but it's safe to say that you need at least 200 dots per inch (dpi) for acceptable image quality, and at least 300 dpi for excellent print quality. But what does that mean, and how can you figure out the best print size for a particular photo?
You can ignore any properties in your photo editing program that report a particular dpi value or recommend a particular print size; that's hogwash. Instead, just do this: Determine the maximum recommended print size by dividing the photo's pixel size by 200 (or 300 for higher-quality prints).
Not sure how many pixels are in your photo? Right-click the image file's icon, choose Properties, and click the Details tab. You should see the width and height listed in pixels. (Or, if you are using Windows Vista or Windows 7, you can just click a photo's icon and look for the information in the details pane at the bottom of the folder.)
Suppose your photo measures 2000 by 3400 pixels. Divide each dimension by 200, and you get 10 by 17. That means you could print the photo as large as 10 by 17 inches and get acceptable results. If you want a higher-quality printout, divide the pixel size by 300. That gives you 6 by 11, which means you should print it no larger than about 5 by 7 inches for the best results.
Of course, this is approximate; a lot of other factors affect photo quality. This technique, however, gives you a good rule of thumb for deciding whether a photo will print well.
2. Choose the Right Paper
You can get some stunning photos from modern inkjet printers, but not just any paper will do. Plain paper, for example, absorbs the ink. This washes out the colors and destroys fine detail, reducing the print's overall sharpness. It's fine for text, and you can use it to print drafts of your digital images. For best results, use the printer manufacturer's recommended photo paper.
Of course, you're still not out of the woods. Photo paper comes in a variety of formats. The most common varieties are glossy and semi-glossy (also called matte). Glossy is exactly what it sounds like: It's shiny and gives your photos a resounding visual punch. Glossy paper is very reflective, though, and it can generate glare in direct sunlight. It also smudges easily. If you want a less reflective, less smudgy alternative, consider matte. It's not quite as sharp as glossy paper, and fine detail can get lost in the surface–but, personally, I like the freckled finish of matte paper.
3. Stick With the Manufacturer's Ink
I might not win any popularity contests by saying this, but I highly recommend using the ink recommended (and sold) by your printer's manufacturer.
Printers aren't stand-alone gadgets that work with any fluid you pour into them, like oil in a car engine. They're engineered to work best with specific ink formulations, and using "remanufactured" or refilled ink cartridges will result in lower-quality prints. This can be especially obvious when you're printing photos.
4. Verify the Print Settings
When you're ready to print a photo, double-check all the important settings. You might think that's obvious, but you'd be surprised how often you get lousy prints because some of these settings are loopy.
Is the paper loaded correctly? Photo paper is designed to be printed on a particular side. If you print on the wrong side, the ink won't absorb properly, and your photo won't look good.
Did you set the right paper type and ink type in the print settings dialog? Be sure those settings match the specs on the box. It's not so bad if you configure the printer for premium paper and quality ink when printing on plain paper, but you definitely don't want the printer to think you're using plain paper or draft settings when outputting to high-quality photo paper.
5. Maintain Your Printer
Take good care of your printer. Inkjet printers have finicky print nozzles that occasionally clog and need to be cleaned. Every month or two, it's a good idea to run your printer's print head cleaning and print head alignment utilities (usually available from the printer options in the Windows Control Panel). And you shouldn't let your printer go unused for weeks at a time. Even if you have a printer that's intended just for photos, I highly recommend printing on it at least once a week whether you need to or not. That keeps the nozzles from gumming up, which can spell disaster.
Hot Pic of the Week
Get published, get famous! Each week, we select our favorite reader-submitted photo based on creativity, originality, and technique.
Here's how to enter: Send us your photograph in JPEG format, at a resolution no higher than 640 by 480 pixels. Entries at higher resolutions will be immediately disqualified. If necessary, use an image editing program to reduce the file size of your image before e-mailing it to us. Include the title of your photo along with a short description and how you photographed it. Don't forget to send your name, e-mail address, and postal address. Before entering, please read the full description of the contest rules and regulations.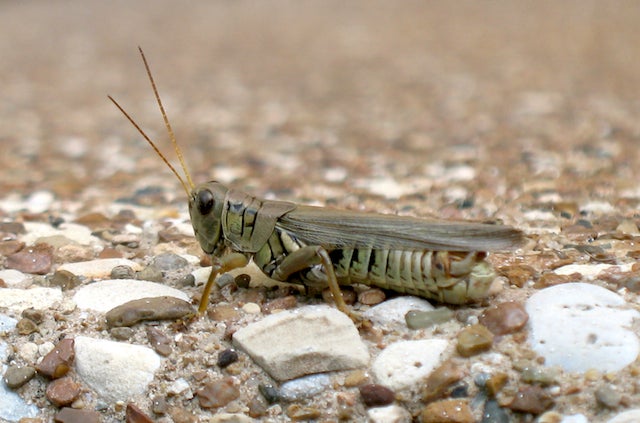 This Week's Hot Pic: "Grasshopper," by John Litto, Dyer, Indiana
John captured this grasshopper while it was sitting on the sidewalk outside his house.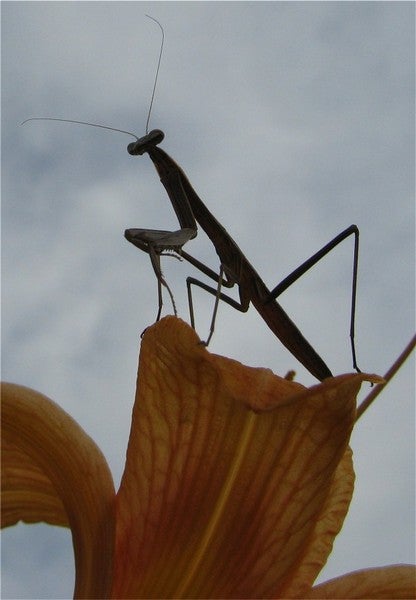 This Week's Runner-Up: "Web King of the Flower" by Chrystal Lambly, Brown Summit, North Carolina
Chrystal writes: "I used a Canon PowerShot just with natural lighting, and I sat beneath the flower to get this perspective."
To see last month's winners, visit our October Hot Pics slide show. Visit the Hot Pics Flickr gallery to browse past winners.
Have a digital photo question? E-mail me your comments, questions, and suggestions about the newsletter itself. And be sure to sign up to have Digital Focus e-mailed to you each week.