The Motorola Droid is doing more than just bashing the iPhone — it's also smashing the ceiling when it comes to mainstream Android appeal. A full 250,000 people snatched up Droids during the phone's first week in stores, some newly released data suggests. That's four times the number of launch-week sales estimated for the myTouch 3G, which had previously been considered the fastest-selling Android device.
Droid's Soaring Sales
The new Droid sales numbers come from Flurry, an analytics firm specializing in mobile applications. The company watches mobile app usage and then uses that data to make overall ownership estimates.
So where does the Droid fall within the smartphone spectrum? According to Flurry, Droid's 250,000 figure puts it well above the myTouch, but well below the iPhone. The firm says 60,000 myTouch 3G handsets were sold during its launch week, while 1.6 million iPhones went out during its first seven days.
Droid Sales, In Perspective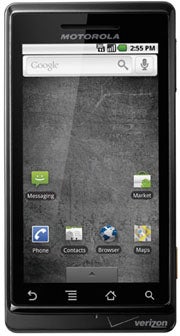 Before you jump to any conclusions, let's put those numbers into perspective. Yes, the iPhone's sales figure is significantly higher than the Droid's. But don't forget a couple of important factors:
First, the iPhone 3GS was building upon a massive base of existing iPhone owners, many of whom were guaranteed to be grabbing at Apple's updated model (or, let's be honest, practically anything new Apple offered) the second it hit store shelves. Droid didn't share this advantage; it was a first-generation product without an established fanbase.
Second, and equally noteworthy, the iPhone 3GS launched in eight countries during its first week. The Droid launched only in America. Taking that into consideration, the difference in sales suddenly doesn't seem quite so overwhelming.
Now, does that make the Droid an "iPhone killer"? As I've stated many times before, that's a phrase I refuse to use in any serious fashion (see here for my thoughts on how anyone who does use it should be punished — and yes, CNNMoney.com writer who actually employed the term "everything killer" in a title today, that means you).
What I will say is that this data certainly suggests a strong sprint out of the gate for the Droid — and, perhaps more important, for the Android platform in general.
The Android Explosion
We've been talking about the projected growth of Android for some time now, both as a mobile phone platform and as an operating system for a vast array of other types of technology. One analyst predicts a 900-percent increase in Android smartphone adoption over the coming months. Other pundits are calling for Android to surpass the iPhone in worldwide adoption by 2012, with 14 percent of the global smartphone market in its grasp.
The growth, while no overnight sensation, can already be observed. Fresh data from Gartner finds Android adoption reached 3.5 percent in the third quarter of 2009, pre-Droid — up from zilch the year before. The biggest losers in year-to-year change: Symbian, which fell about 5 percent, and Windows Mobile, which saw a 3 percent drop. (I'm telling you, if they'd only have put BALLmer Buster and BSOD4me into the Windows Mobile Marketplace, things might have been different.)
As the good folks at BusinessWeek astutely observe, the Motorola Droid may or may not be able to maintain its momentum once the initial excitement wears off and newer Android devices take over the spotlight. But in the grand picture, the Motorola Droid is only a tiny part of the equation. Its relative success signals the beginning of Android being a serious contender in the smartphone market — and that's something bigger than any iPhone-crushing ad can convey.
JR Raphael is co-founder of geek-humor site eSarcasm. You can keep up with him on Twitter: @jr_raphael.