Google on Tuesday unveiled a revamped Translate service, giving a new look and feel to the automatic text and Web page translation tool. Google Translate now offers 51 language options and instant translations.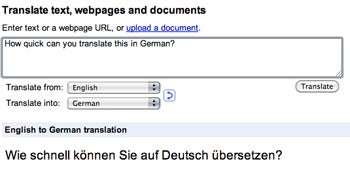 Instant translation is one of the most notable features in the revamped Google Translate service. Once you type in text in the text box, the translation in your desired language will automatically appear underneath, no need to press the "Translate" button. Oddly, though, the "Translate" button is still present.

Google Translate has also improved its use of non-Roman languages–somewhat. The tool can now show Chinese characters written phonetically in English but lacks support for Hebrew, Arabic, and Persian at the moment.
To compensate though, Google Translate can now transliterate for Arabic, Persian and Hindi. This feature would be particularly useful if you don't have the respective script on your keyboard, as you can type the words as they sound and convert them to native script.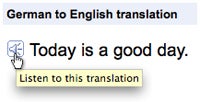 For non-English speakers, the new Google Translate introduces text-to-speech translations. If you translate from a different language into English, a speaker icon appears next to the English word, which will read it aloud.
Awaneesh Verma, Product Manager at Google, said in a blog post that Google Translate continues to improve the precision of the automatic translation system, and it shows. I gave the new Google Translate a go this morning with a bit of (complex) German and (basic) Spanish, and the results were accurate.
I was not able to test the phonetical Chinese translations or the new transliteration feature, but it would be great if one of our international readers could give it a go and let us know in the comments if the results are as accurate as with the Roman languages.
You can see the new Google Translate in action in this brief video demo of the revamped service: