Apple might be getting ready to offer some steep discounts on Black Friday that could save you hundreds of dollars on iPods, Mac computers, and Apple software. The only problem is that it's all rumor and conjecture at this point. The source of this supposed watershed sales event is a leaked flyer said to be from Apple that surfaced on Boy Genius Report late Monday.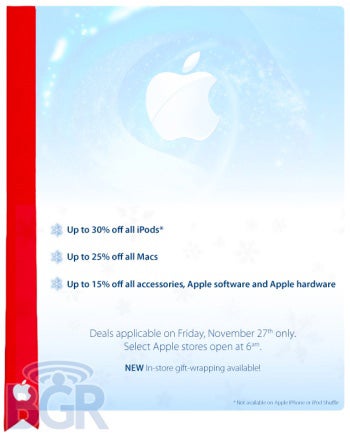 Image courtesy of Boy Genius Report.
The ad details three gigantic discounts, including up to 30 percent off all iPods (excluding the iPhone and iPod Shuffle), up to 25 percent off all Macs, and up to 15 percent off all accessories, Apple software, and Apple hardware. By comparison, highlights from Apple's 2008 Black Friday deals included $101 off the 2GHz unibody MacBook, $51 off a 20-inch iMac, $11 off an 8GB iPod Nano and $21 off a 160GB Apple TV.
Slash 'em Steve
If true, this year's Apple sale would be a huge change from previous years (which automatically suggests the ad is bogus). However, there are a few details in the ad that suggest it could be the real deal. Note that each sale item says "up to" so much percent off.
That could mean Apple will offer bigger discounts on one or two models in each category like 25 percent off the 13-inch white MacBook, or possibly 30 percent off the iPod Classic. The rest of the items could then be offered with significantly smaller discounts like four percent off the 21.5-inch iMac, which would be close to last year's 20-inch iMac deal. The supposed ad also doesn't make clear whether the Black Friday deals will be available through Apple's online store as they have been in the past.
What about those numbers?
But why would Apple offer such huge discounts, when the company has been reporting record profits all year? Perhaps with the dwindling popularity of the iPod in favor of the iPhone, Apple is afraid it will lose holiday traffic looking for lower-priced Apple goodies. Or maybe Apple has excess stock it needs to unload before announcing new products in January.
I suppose anything's possible, but every year there's an Apple Black Friday rumor, and every year it proves to be wrong. But man, I hope this year's rumor is right.