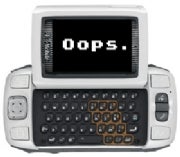 T-Mobile has begun selling Sidekicks again – this time, at somewhat lower pricing – a little over a month after a massive server failure at Microsoft's Danger subsidiary caused users of the phone to lose contact information, photos, and other personal data.
"T-Mobile is pleased to announce that Sidekick sales have resumed. New pricing for the Sidekick LX 2009 will be $149.99 with a two-year contract and the Sidekick 2008 will be $49.99 with a two-year contract," T-Mobile said in a statement.
After Danger servers crashed in mid-October, Microsoft eventually managed to restore most of the information lost by Sidekick users, but in a halting way that left many customers infuriated.
Users in at least two states – California and Washington State – filed lawsuits over the matter. Meanwhile, in an effort to placate unhappy Sidekick users, T-Mobile doled out $100 gift cards.
With the Sidekicks now available again, however, it's questionable how many people will actually buy the phones, even at their new, slightly reduced prices. T-Mobile's top-of-the-line Sidekick LX model now costs $25 less than before the data outage.
The loss of users' personal information drew so much attention that new customers are unlikely to be attracted to the Sidekick, particularly with new phones such as Verizon Wireless' Droid and T-Mobile's own Behold II now freshly out there in stores.
Maybe some loyal existing Sidekick users can be enticed to use their $100 gift cards from T-Mobile to upgrade to the LX – that is, if they're not afraid that they might lose their personal data all over again.