Asus, Toshiba and Sony laptops may be more reliable than MacBooks according to research from Squaretrade, but within a few years, a lot of laptop owners will have trouble regardless of brand.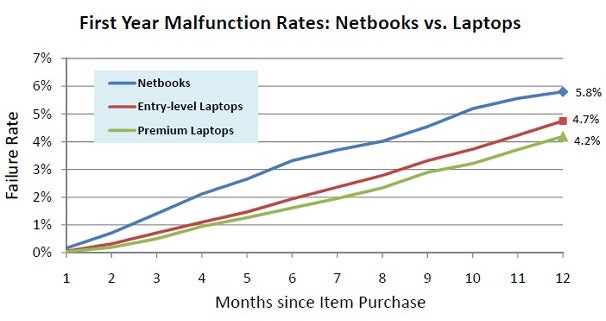 Squaretrade's latest report on laptop reliability found that, on average, 31 percent of laptops fail completely within three years of purchase, including malfunctions and accidental problems. Malfunctions alone account for 20 percent of failures within three years. It should be noted that Squaretrade's business is selling extended warranties, but our last annual survey of laptop owners turned up a similar result: One third of respondents told us they experienced significant hardware problems with their computers.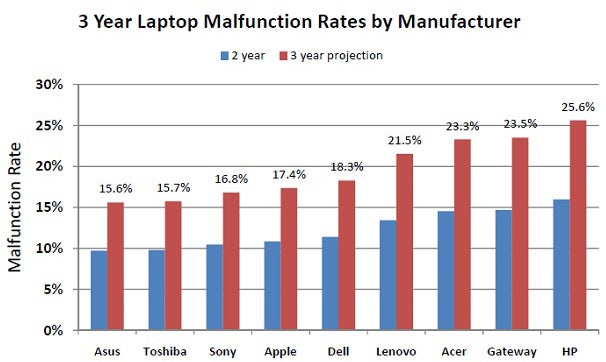 According to Squaretrade, there's a correlation between how much you spend on a laptop and its likelihood of having problems. Netbooks suffered the most, even with just one year of solid data for this exploding market. Malfunctions were 20 percent more frequent in netbooks than in more expensive laptops after one year. Squaretrade predicts that netbook malfunction rates will hit 25 percent in three years, compared to 21 percent for entry-level laptops and 18 percent for premium notebooks.
When broken down by manufacturer, Asus fared the best on malfunction rates with 15.6 percent, and HP performed the worst with 25.6 percent of laptops malfunctioning within three years. Behind Asus were Toshiba, Sony and finally Apple, which topped our most recent reliability survey.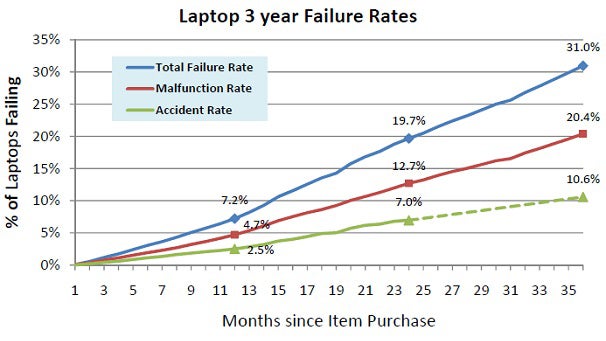 Generally, Squaretrade's results by manufacturer aren't surprising. A reliability report from RESCUECOM, published last March, also put Asus ahead of the pack and HP in dead last, with Apple coming in the middle, though Toshiba didn't fare as well then. HP performed poorly in our last survey, too.
Squaretrade says failure rates are so high overall because of the sophistication and delicate parts that go into a laptop, plus the amount of use and abuse to which they're subjected by owners. Are these findings enough to scare you into an extended warranty