If you're starting a new business, hiring on a shoestring budget, or simply sprucing up your home office, you'll need some new office gear, and you probably won't want to spend much. Believe it or not, Craigslist isn't just for used couches and one-night stands; it's also exceptionally good for finding standard office furniture (cubicles, desks, chairs, and so on) at unusually low prices. However, Craigslisting is an art in itself, so we've got some tricks that will help you seal the deal on whatever used gear your new office needs.
The Budget
Buying a basic, no-frills office chair and desk at OfficeMax will run you at least $170, a phone/fax machine will cost another $60, and brand-new cubicle units may be tagged at anything from $500 to $3000 apiece, depending on configuration, wall height, and filing options. Spend a few minutes on Craigslist, however, and you'll find plenty of office furniture that sellers need to get rid of for cheap–or even free.
The trade-off is your time. Though you could find a chair, a desk, a fax machine, and even some cubicles in Craigslist's 'Free Stuff' section, you have to be fast to pick up, because in many instances the stuff is simply left out on the street for the vultures (that's you) to pick over. We'll help you streamline your search process and seal the deal, but be aware that bargain hunting on Craigslist can be a time-consuming process–and you might be better off investing that time elsewhere in your business. When budgeting for your Craigslist searches, figure time into the calculation: If you end up spending an extra 3 hours to save $20, you might have been better off buying the furniture at full price in the first place. In short: The goal is to get on Craigslist, get the deal, and get on with your workday.
The Search
Let's start with searching. Unless you have all the time in the world, you shouldn't begin by aimlessly browsing the 'For Sale' sections; instead, zero in on the relevant categories ('Furniture', 'Business', and 'Free Stuff' are sensible choices) and then start searching. Try entering a general query ("office furniture") in 'Free Stuff' just to see what's available at the lowest price of all.
If nothing comes up, move on to 'Furniture' and 'Business'. In those three categories in the San Francisco Bay Area, I got 600 results for "office furniture," so I decided to pare down the search results by checking the 'has image' tag; I figured that if the seller couldn't be bothered to post an image, I probably wouldn't want the item anyway. I also set the minimum price to $2 because I didn't want to see ads from furniture dealers submit their listings with a tagged price of $1 but don't actually list any prices in the ad. Generally speaking, furniture dealers charge higher prices than furniture owners do–you can check them out for yourself in the 'Furniture by Owner' and 'Furniture by Dealer' categories.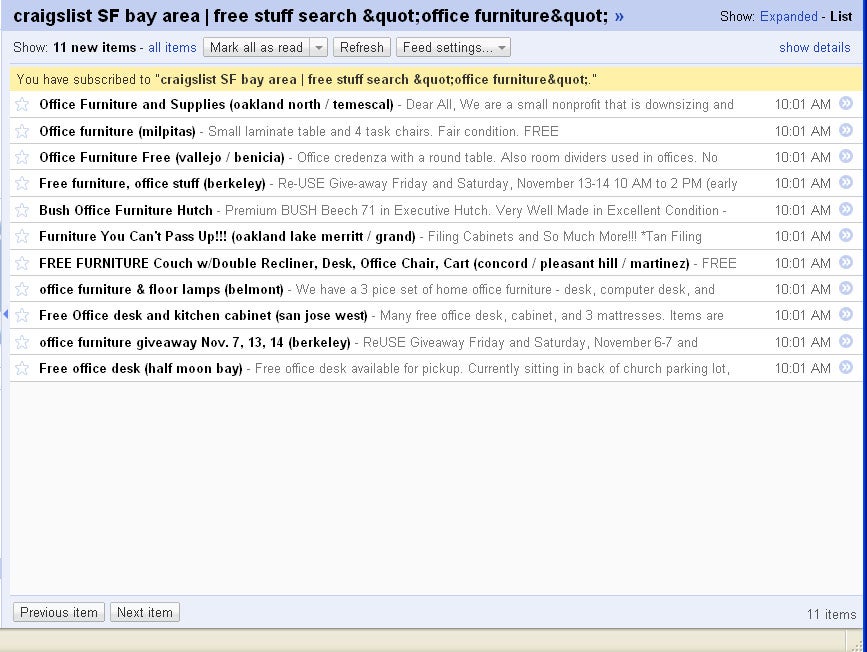 If your needs are more specific–a set of filing (or "file") cabinets, for example, or a receptionist's desk–the search process is substantially easier. Start by narrowing the search results with your price range (and desired location, if applicable) and then scroll through the search results. As the "filing cabinet"/"file cabinet" example suggests, it's a good idea to conduct separate searches for alternative terms for the same item if both names are common. A search for "filing cabinet" produced 15 results, while a search for "file cabinet" generated 31 matches, with only four entries repeated from the "filing cabinet" list. (A search for "file filing cabinet" returned only those four overlapping entries.) Craigslist allows you to specify a search as the source for an RSS feed (more on that here), so just click the big yellow RSS button and add it to your reader of choice to stay current without actively prowling Craigslist every 10 minutes.
On the other hand, services like Craiglook and Search Tempest offer alternative Craigslist search functions that cater to power users, like slightly more refined search options (search terms to exclude, for example) and the option to search other nearby Craigslist portals. If you live in the San Francisco Bay Area and are willing to drive 250 miles, for example, Search Tempest will include Craigslist search results for the region stretching from Stockton to Sacramento.
Post an Item Wanted Ad
If you can't find what you're looking for, try posting your own ad. Though the 'Items Wanted' section of Craigslist gets far less love than the 'For Sale' category does (or 'Missed Connections', for that matter), it can't hurt to post a list of the items you're looking for so that your furniture search is visible to would-be sellers, especially if you're thinking of continuing the search process for a week or so. You needn't be too specific here–just list the items that you're looking for. If possible, post a phone number in your listing, too; sellers generally prefer the immediacy of a phone call. Also, check out our other Craigslist tips stories ("Craigslist Expert Tips: Better Ways to Buy and Sell" and "10 Craigslist Tips for Power Users") for more help in finding what you need.
Closing the Deal
Once you discover it, you need to buy it–and doing so isn't a simple matter of clicking 'Buy It Now'. Fortunately, we've assembled a few tips that will help you seal the deal and get to work in your new office.
1. Speed it up. Most people on Craigslist want to move their stuff as quickly as possible–within minutes or hours, not days. If they provide a phone number in the posting, it's because they want you to call it rather than send them an e-mail note. If you have to use e-mail, include your phone number in your contact information so the seller can contact you immediately. To minimize the odds of having the ideal office chair pulled out from under you, you need to buy that chair as quickly as possible. Also, dithering over transportation arrangements can cost you time and money: If you need a truck, line it up before you start the Craigslist search process, so it'll be ready to go when you need to pounce.
2. Indicate interest. People are busy and don't want to wade through a dozen diffident potential buyers to find one who will follow through. Asking plenty of questions during your initial phone call is a good way to get detailed information about the goods in question and show the seller that you're more interested in buying them than whoever else has called. In certain circumstances, establishing a clear interest in the item can be more important than speed; after all, if I'm using my valuable after-work free time to sell this thing, I want to deal with someone who won't waste my time.
3. Look for people with multiple listings. People who are getting rid of office furniture are probably, well, clearing out an office–which means that they usually have several items to sell (listed together or separately) and are more inclined to deal with (and perhaps cut a deal with) people who offer to buy more than one item. One-stop shopping saves you multiple trips around town, too.
Hopefully these tips will help you get your office up and running on time and under budget. For more budget-friendly business tips, check out "How to Start an Online Business for $100."