Hope you didn't pay $100 for a Palm Pixi on launch day, because the same phone now costs $25 through Amazon.
A price drop was expected, given that Amazon had been selling the Palm's flagship Pre for $100 since September. Amazon has also slashed the Pre's price to $80, matching an offer that Wal-Mart put out two months ago.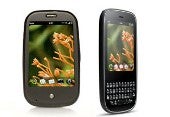 Buying through Amazon has two other advantages: You don't have to mail in a rebate, or in the case of Wal-Mart's Pre offer, prove that you've paid the first four months of your bill on time (not that you wouldn't), and if you buy between now and November 23, Sprint will waive the $36 activation fee. Of course, you still need a two-year service contract with Sprint to get either the Pre or the Pixi at a discount.
Palm's Pixi launched on November 15, and was given a favorable review at PC World, though is was not as warmly received as the Pre. The screen is smaller than the Pre's at 2.6-inches, making room for a physical keyboard on the front face. This also allows for a cute, 3.3-ounce frame measuring 2.2 by 4.4 by 0.4 inches. On the downside, the phone lacks Wi-Fi and is sluggish at times, but retains many of WebOS's finer qualities, such as the ability to synchronize contacts and communications from several sources into a single view.
There's no indication that Amazon will ever stop selling the Pixi for $25 or the Pre for $80, so no need to act as if this is an early Black Friday deal, though you will lose Sprint's free activation offer after next Monday.
The $100 smartphone space has lots of competition, most notably from the 8 GB iPhone 3G and the new HTC Droid Eris. It puzzles me that Palm and Sprint aren't selling the Pre and Pixi elsewhere for Amazon's prices, but I'm glad at least one venue is making these phones competitive on the ever-important factor of price.