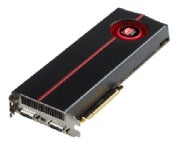 Dubbed by AMD as the "world's fastest," the ATI Radeon HD 5970 joins the ranks of DirectX 11 capable graphics cards, and includes ATI's Eyefinity multi-display technology.
Announced today, The HD 5970 boasts quite a few nifty features, including an integrated HD Audio controller, efficiency tools to lighten the card's power consumption, and nearly 5 teraflops of power. To illustrate how rapidly graphics cards are advancing, Nvidia's GTX 295, which was released early this year, offers up a comparatively measly 1.79 teraflops.
With Eyefinity, a single card can support up to six monitors at a maximum resolution of 7680 x 1600: perfect for those who appreciate egregious amounts of screen space. You'll need a monitor equipped with a DisplayPort connector to take full advantage, however.
Power-users will appreciate ATI Overdrive, a software tool that lets you overclock your graphics card without any performance caps. The card's warranty doesn't cover damage caused by overclocking, so overclock at your own risk.
Windows 7 and Windows Vista support DirectX 11, and a growing list of games — including upcoming titles like Codemasters' Dirt 2, and EA's Battlefield Bad Company 2 — promise to take advantage of the latest advances in graphical wizardry.
Naturally, all of this performance doesn't come cheap. Early adopters can expect to pay about $600. Alienware will be among the first to include the cards in new PCs; it'll ship in the latest Area-51, Area-51 ALX, and Aurora lines of desktops. You can expect all of the major OEM distributors to start unveiling their own products soon.