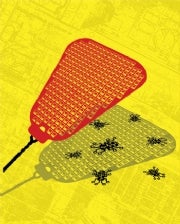 Today's vast threatscape of duplicitous Trojan horses, invisible exploits, and slithering worms make antivirus protection a must. But that doesn't mean you have to pay top dollar for a security suite that may have features you don't want or need.
Stand-alone antivirus apps focus on blocking malicious software, without loading up on the extras that come with a suite. You typically won't find–or have to pay for–parental controls, system tuners, firewalls, or other options. That frees you to mix and match your own suite of apps, or even just stick with an on-its-own antivirus program and the built-in Windows firewall. See "Picking the Right Security Software" for more on this topic.
First, though, you need to know which programs will protect you and which could fall down on the job. To find out, we poked and prodded a large batch of applications–eleven in all, from not only the United States but also Europe and Japan. In partnership with AV-Test.org, we determined the products' detection rates for malware both known and brand-new. We also measured scan speed and disinfection performance, along with the rate of false alarms. For re­­sults on all products we tested, see our chart.
While any antivirus program is defined by its ability to keep a PC safe, we also dug through each app's user interface and simulated a variety of scanning scenarios to make sure a program wouldn't drive you crazy as it did its job.
G Data AntiVirus 2010 took top billing in our ranked software chart, doing the best job at malware detection, both in traditional, signature-based tests and in proactive protection tests that gauge how well an app can detect new malware without a full signature. However, while the program has a straightforward interface, it also asks more questions of the user than many of the other antivirus applications we tested, and it therefore may be best suited to a more technically oriented person.
Our close second-place finisher, Symantec's Norton Anti-Virus 2010, on the other hand, is smooth and simple to use. It does a generally good job of blocking and removing malware, though it trailed G Data in one type of proactive protection. And it has some appealing extras, such as a tool that can help you decide whether you think that a new download is from a reputable source and likely safe to install. Though it just barely lost out to our top recommendation, Norton would be a good choice for computer owners who want a minimum of fuss from the software they use.
Our scoring emphasized performance–or effectiveness–over all other considerations. After all, it doesn't matter how nice an antivirus program looks if it can't block malware. Based on our test results, we found that almost all of the programs were fully capable of de­­tecting malware with known signatures. When confronted with more than 650,000 Trojan horses, spyware samples, and other baddies, seven of the ten apps detected more than 99 percent of the samples. And no program had a detection rate of less than 94 percent.
But these days, online crooks are good at staying ahead of signatures. Month-old malware may as well be a dinosaur, and Panda, maker of one of the apps we tested, says that a whopping 52 percent of the malware it sees has a digital life expectancy of less than 24 hours. So we gave weight to tests that measure how well programs can detect newer malware for which a signature doesn't yet exist. Some of those tests gauge an app's ability to identify malicious software based solely on how it acts. Absent that crucial ability, a program had no real shot at a top ranking.
See the full reviews of our top five paid antivirus products: