In security software, you have plenty of options, from free antivirus programs to paid ones to full-blown, multifunction security suites. The big issue, of course, is deciding which approach is right for you.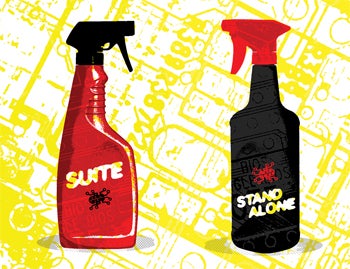 Suites: All-in-One Security These usually include an antimalware program and a firewall, plus other features such as protection against phishing and scams, spam filtering, parental controls, and Website filtering. Some suites also bundle system tune-up tools. Prices typically run about $50 to $70 for a one-year, one-PC subscription. Take a look at the best Internet security suites.
Stand-Alone Antivirus Apps These programs vary, but in general they have fewer additional security features than suites have, and most lack firewalls. For example, Norton AntiVirus protects against the various forms of malware, but has no firewall, phishing protection, or parental controls. See our roundup of paid antivirus programs and our chart.
Many security companies offer free antivirus programs in addition to their paid products, and some are quite good. However, very few free apps come with any significant technical support options, so you're essentially on your own when you encounter a problem. See our roundup of free antivirus software.
Another Consideration Many free and stand-alone antivirus products lack a capability for behavioral analysis (identifying malware based on how it acts and without relying on malware signature updates). If your current antivirus program lacks that feature, consider PC Tools' Threatfire 4.5, a free behavioral analysis­-based antivirus application that works alongside your existing protection.
Do You Need a Suite? The short answer is no. Many PC users protect their computers with different combinations of security products–but this does take some extra work.
You can use a stand-alone antivirus utility like G-Data Antivirus alongside a free firewall such as one from ZoneAlarm. Windows Vista and Windows 7 include two-way firewalls that can block incoming and outgoing network traffic. Third-party firewalls are usually more flexible than what's built in, but Windows Vista and 7 users can download the free Windows 7 Firewall Control, a third-party utility that gives you more control over the Windows firewall.
Just remember that building your own suite requires you to do some research to find the best security products for your needs. And if something goes wrong, you'll have to contact different companies depending on which program acted up; with suites you have one point of contact for all technical support issues. Still, if you're willing to do the homework, this approach may be worthwhile.