Firing back at Verizon, AT&T has released a new ad that talks about the wonders of the iPhone–and then promotes two Samsung handsets. How misleading is that?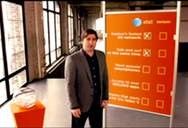 The AT&T "Side-by-Side" spot (see it here) promotes the benefits of "access to over 100,000 apps," but then sells handsets that run few if any of them (and none of the over 100,000 iPhone apps, of course).
The ad also promotes the ability to surf and talk simultaneously, a feature the iPhone has, but the Samsung models shown at the end of the spot appear to lack.
As for AT&T offering "the most popular smartphones," well, we know what that refers to, and it is (again) not the Samsungs.
I know, it is hard to make any cellular carrier look good, but AT&T is spiffing up Verizon's imagine on an almost daily basis.
Yesterday, an Atlanta federal judge denied AT&T's request for an injunction against Verizon's "There's a map for that" TV ads that compare Verizon's 3G coverage (most everywhere) to AT&T's (not nearly everywhere).
Interestingly, the judge said something in court Wednesday that apparently expresses AT&T's viewpoint as well.
"Most people who are watching TV are semi-catatonic," U.S. Dist. Judge Timothy Batten Sr. remarked, prompting courtroom laughter. "They're not fully alive."
You'd have to be semi-catatonic not to notice that AT&T's rebuttal commercial takes credit for Apple's success and then tries to sell Samsung phones, perhaps a good choice for the "not fully alive" among us.
I noticed the ad because my colleague, Dan Moren at Macworld, spoofed the AT&T commercial in a blog posted earlier today. I watched the spot, noted AT&T wrapping itself in Apple's glory, expected to see an iPhone promoted, and got Samsung instead.
Talk about bait-and-switch!
Meanwhile, if Verizon's commercials merited a lawsuit, then AT&T certainly deserves judicial attention. After all, where these commercials are concerned, "There's a judge for that!"
The two sides will next meet him at the second hearing in AT&T's care, scheduled for Dec. 16.
David Coursey tweets as @techinciter and can be contacted via his Web site.