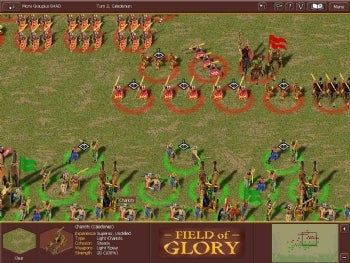 If you're one of the 200,000 patrons of Slitherine's Field of Glory miniatures wargame–even if you've never heard of it–you might be interested to know the computerized version just launched online.
Correction: I completely botched the developmental history here. Field of Glory's ruleset was in fact developed by Slitherine only. Osprey simply provided the layout and printing for the book version. The computerized version has nothing to do with Osprey, and is in fact Slitherine's work alone.
You know Osprey, right? The UK-based guys with their own head-high turntables in your bookstore's history section? Thin, relatively low-priced history briefs with splashy, detailed artwork and sexy titles like Greek Fortifications of Asia Minor 500–130 BC and Ships of the American Revolutionary Navy and USN F-4 Phantom II vs VPAF MiG-17/19?
Those guys. Slitherine (Commander Europe at War, Chariots of War, various History Channel tie-ins) partnered with them a while back to publish the book version of their (that is, Slitherine's) recent and relatively well-selling wargames ruleset.
Field of Glory–not to be confused with Fields of Glory, the old 1993 Napoleonics PC game by Jim Bambra and Adrian Earler–is an adaptation of Slitherine's eponymous award-winning historical miniatures wargaming system, aimed at players interested in gaming ancient and medieval battles on their PC. Slitherine partnered with developer HexWar to bring it to Windows PCs.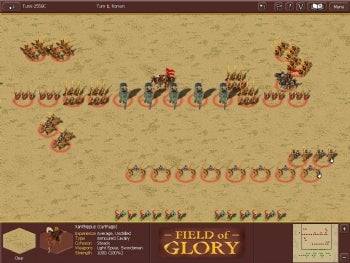 Cobbled together from the press release…
…sales of the series have exceeded 200,000 copies and [consist] of the full Wargames rule set plus 10 additional Companion Books, with the final Companion now in production to complete this popular series.
Fans worldwide have praised the quality and realism of this production which is created by Wargames specialists Slitherine and distributed by military history book publishers Osprey Publishing. Over 80,000 posts on the FOG forums and an ever growing community of fans have built on the success of the original system and now Forum members are contributing towards FOG's expansion into the Renaissance and Napoleonic eras.
Slitherine is now launching the digital version to allow fans to play single player battles against the AI or multiplayer battles across the internet. The innovative multiplayer system created specifically for this product has been designed to be an evolution of the play by e-mail (PBEM) system. Player will find there is no need to download files or any other complicated process to view your opponent's turns. The game also handles multiple matches in real time without any interaction from the player. No more searching through lobbies for an opponent– your challenges can be issued and then accepted when you are offline, and your opponent can play his turn while you sleep and it's all there ready for you in the morning.
Jointly developed with UK specialist Hexwar, the games is set during the Rise of Rome, from Zama in North Africa to the battles of Boudicca's revolt in Britain.
Key features
Game play that allows key decisions to decide the results of historical battles.
Detailed and accurate depiction of ancient warfare (combat mechanics, leaders, morale).
Single and 2 player head to head modes, together with an internet based multi-player system.
18 battles of varying size.
Play as the Achaean League, Carthage, Caledonians, Gaul, Germanic Tribes, Macedonians, Spartacus Slave Revolt, Romans or even Romans vs. Romans at Pharsalus.
Comprehensive scenario builder is included. There are graphics for 11 different terrain types with western European and arid settings. 141 different battle group types within the system, and also allowing almost limitless ability to modify their individual behavior in the game.
Later releases will include additional battle packs and an army designer where players will be able to choose their favorite armies and match their skills against opponents of their choice, on an infinite selection of battle fields.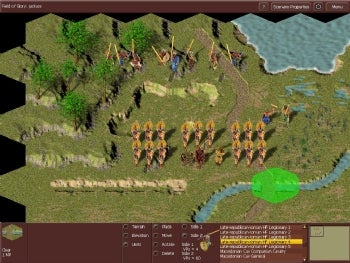 I just pulled it down myself ($30, and too impatient to ask for a press copy). If you want to see what players are saying about it, here's the link to the game forums.
Follow me on Twitter @game_on