At a Glance
Expert's Rating
Pros
Great looks and nice user interface
1.5TB in RAID 5
Cons
Weak multimedia streaming support
Our Verdict
If streaming multimedia isn't your thing, this is the best looking, friendliest NAS box out there.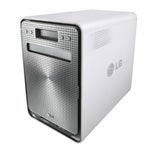 LG's N4B1 NAS box is neither a comprehensive media server nor a particularly fast performer, but as a network-attached storage device, it's quick enough for home/small-business file serving. The unit–available at this writing for around $700–is also the sturdiest and quite possibly the best-looking such box I've had my hands on. You also can't beat it's HTML configuration interface for looks or ease of learning and use. But none of that compares to the N4B1's most outstanding feature: an integrated Blu-ray burner, unique among NAS products in the SMB/SOHO market.
This Blu-ray writer lets you back the box's contents up to Blu-ray recordable or rewritable discs. However, LG also leverages the Blu-ray drive as a reader to back up CDs to disc images. (Technical note: For data discs, you'll wind up with .iso images, while audio and video CDs result in files in the .cue or .bin formats originated by CDRWin but now supported by many programs, including the free ImgBurn. Why LG didn't just stick with good ole' .iso, though, is a mystery to me.)
Outside of the handy optical drive, my favorite N4B1 feature is its front-panel LCD. Using it you can back up the box to both USB and Blu-ray as well as set the IP address without resorting to the HTML interface. It's nice not to have to fire up a computer just to set a backup in motion.
While the N4B1 has only two USB ports (one front, one back) it also has an SD memory card reader, another unique feature, as well as an eSATA port for storage expansion or backup.
As I mentioned, the N4B1 isn't the swiftest of NAS boxes, though it's hardly the slowest. With four 500GB drives configured in RAID 5 for 1.5TB total storage, it placed comfortably in the middle of the pack, though well off the pace set by HP, Acer, and Synology's faster boxes. For the home or small-business environment it'll do just fine–unless you want to stream multimedia to a digital media adapter. The N4B1 serves up music only, and only to iTunes. This doesn't mean you can't store or play video or images off of the unit; you can, but search, find, and play must be done manually via a PC.
If it weren't for the lack of media streaming, I'd give this unit a wholehearted nod for the home as well as SMBs, for which it's well suited. Considering the amount of storage on board and the integrated Blu-ray drive, it's surprisingly affordable.
–Jon L. Jacobi