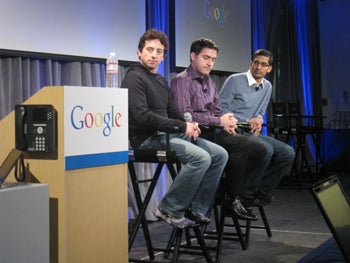 Google opened its doors to the press Thursday to show off its hotly anticipated Chrome operating system for the first time. In a small auditorium in Mountain View, California, Google VP of Product Development Sundar Pichai took to the stage to give us a demonstration of what Chrome OS actually is. Some rumors were confirmed, others dispelled, as the operating system emerged into the light of day. Here's what we now know about Google's Chrome OS.
"As of today, the code will be fully open," Pichai said. In fact, shortly before the press event began, the unofficial Google OS blog announced public availability of the Chrome OS source code. With this code now in the hands of the open source community, it shouldn't be long before various builds of the code end up trickling onto the Web.
[Related: Google Chrome OS: Visual Tour & Google Chrome OS Source Code Now Available for Download ]
Chrome OS vs. Browser
To explain why Google decided to take on the OS project in the first place, Pichai put the project into context of the existing Chrome Web browser, which now has more than 40 million users worldwide. The browser is currently available only for Windows, though Mac and Linux versions will be available before the end of the year. "The Mac version is nearly ready," said Pichai, who is using it as his primary browser on his own machine.
In addition to new versions for Mac OS X and Linux, Google is nearing the release of browser extensions like those found on Firefox and Internet Explorer. One differentiating point is that Chrome extensions will be automatically updated by the browser, simplifying the process of keeping your favorite extensions working when the browser is updated, which is an issue that currently frustrates many users of mainstream browsers.
HTML5 is a core driver behind Google's Chrome OS strategy. "We're all used to running rich games on our personal computer. We wanted to be able to run the same rich games in the browser," Pichai said. An important facet of HTML5 is that it allows Web apps to address the PC's processor and other hardware resources to run 3-D graphics, video, and audio locally on the PC, and address local storage. Perhaps surprisingly, Google has also been working with other browser vendors to increase support for HTML5.
Chrome OS
According to Pichai, one of the principal motivations behind creating a Chome operating system is speed. Pichai repeatedly alluded to Google's desire to make the computing experience more like a TV viewing experience in both simplicity and speed. "From the time you press boot, you want it to be like a TV," he said. "Chrome on Chrome OS will be even faster than Chrome." The meaning here is clear: Google wants to build an instant-on device that lets users get on the Web as quickly as they could turn on a TV. But it also means the company is pushing to make a more streamlined OS that requires less hardware and includes fewer background processes that eat into system resources.
[Related: Google's Chrome OS May Fail Even as It Changes Computing Forever ]
Chrome OS is currently targerted at netbooks and the emerging class of mobile tablets. The convergence of mobile computing devices–laptops to netbooks, and phones to tablets–represents something of a sweet spot for Google, in which a low-profile cloud-based OS could give users a cross between the simplicity and speed of a phone and the more robust experience of a laptop.
For his demo of the Chrome OS, Pichai used an "off-the-shelf Eee PC netbook," which actually ran the presentation via Google Docs Spreadsheets as part of the demonstration.
The Chrome Interface
With the Chrome interface revealed on-screen–as expected, the interface is barely distinct from that of the Chrome browser–Pichai demonstrated some of the features of the operating system. "In Chrome OS, every application is a Web application. Users don't have to install applications, manage software, nothing," Pichai said.
The interface of Chrome is currently composed of three types of views: windows, tabs, and panels. However, Pichai was quick to point out that this interface is likely to change quite a bit over the coming year, as the open source community contributes new code to the project.
Applications, which are essentially just Web pages, live in tabs, just as they do in most browsers now. In Chrome OS, there are two kinds of tabs: page tabs and application tabs. Application tabs are intended to give users quick access to the Web apps they use most, and any page can be made into an application tab with one click. Application tabs remain persistent at the left of the tabs bar, while ordinary page tabs behave just as they do in current browsers.
Tabs live in windows, which on the Chrome OS are more similar to Linux-style virtual workspaces. You can drag and drop page and application tabs from one window to another to group them according to any organization scheme you like.
The final view is the panel, which is a persistent window that can contain a variety of applications. To demonstrate this, Pichai opened up Contacts and Notepad–two apps included with Chrome OS–in panel views, which sit in the lower-right area of the screen. This view is intended to allow users to interact with specific files or Web content while still viewing another page or app in the main window. Content created in panel apps is instantly shared with the rest of the Google apps, as demonstrated by a bit of sample text being entered into the Notepad panel, and then immediately opened in Google Docs.
Other uses for the panel view include searching for music and playing songs or videos in a smaller view during the course of Web browsing. As with documents, these panels can be quickly opened into a tab or full-screen mode.
Chrome OS will support a variety of types of flash media. As an example, Pichai plugged in a USB drive and Chrome OS opened a tab to view a spreadsheet stored on the drive. "It turns out Microsoft launched a killer app for Chrome OS. Microsoft Live," joked Pichai, as a Microsoft Office Live opened the spreadsheet in the Chrome OS browser.
Under the Hood
One expected advantage of Chrome OS will be security. In contrast to the established PC model, in which applications run locally on the drive and user data is generally stored locally as well, Chrome OS will not allow applications to install locally or make changes to the operating system. At the same time, it will automatically sync all user data to the cloud. Meanwhile the operating system will automatically update itself all the time.
User data on every Chrome device will be encrypted, a move that is intended to protect users in the event that their device is lost or stolen. Matt Papakipos, engineering director on the projected, summed up this move by saying, "If I lose my Chrome OS machine, I should be able to go get a new machine, and have everything back up running in seconds" via the automated cloud backups.
Papakipos reiterated the mantra that Chrome OS "feels much more like a television than a computer." Turn it, it starts right away, and you're on the Web by default. In the demo, Chrome did in fact boot almost instantly on the Eee PC netbook. This is in part because the OS is just reading out of RAM rather than a magnetic drive. But there are other reasons that the OS boots and runs more quickly than most other PCs.
Chrome OS consists of custom firmware, a small kernel optimized to run on a short list of reference devices, and the Chrome browser. Because the list of supported hardware is short, the OS is designed without unnecessary background device support. This prevents the operating system from wasting time looking for devices that aren't there (such as floppy drives), which is a problem with Windows and most other consumer operating systems.
Another aspect of the boot process enhances security. A verified boot process applies cryptographic signature keys to each chunk of code, so the the system can check the validity of module of the operating system before it is allowed to execute. In the event that some element of code doesn't check out–due to malware or other corruption, the system will run an automated recovery procedure repair itself by redownloading the appropriate version of Chrome and reimaging the OS.
As an addition security measure, the root partition of the device's drive is read-only, preventing any application from changing the core code.
Market Strategy
Chrome OS will run on a set of reference hardware that will be developed and sold by device OEMs. Google is working directly with manufacturers to specify which hardware components will be supported. Conspicuously, hard drives won't be on the list. Though the OS is open source, you won't be able to download it and install it on any device you happen to have. Instead, you'll have to run it on a Chrome OS-specific device comprised of hardware components that are explicitly supported by the OS.
Of course, as of today, the Chrome OS source code is readily available for download by anyone. And, according to Pichai, the code will run on select devices that are available today. Soon, Pichai said, developers will be able to find a list of devices that can support the OS, and what changes will need to be made to those devices to make it work.
By this time next year, Google expects to have several devices available in the retail channel in time for the holiday shopping season.
Robert Strohmeyer is a senior editor at PC World. He tweets as @rstrohmeyer.