Yesterday Google hosted a press event at its Mountain View campus to reveal a first glimpse at the Chrome OS. The excitement around the operating system has led to rampant rumors and speculation, but I question whether the Chrome OS is really worth any of this hype.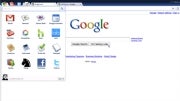 Google is Google. It has a Midas touch when it comes to web-based applications and services so its easy to get wrapped up in anticipation about a web-centric operating system from Google. Here are five reasons Chrome won't live up to the hype.
Editor's note: PC World contributor Jared Newman takes an alternate point of view in his Today@ blog "Five Reasons the Google OS will Succeed". Think they are both wrong? We'd love to hear your thoughts in the comments)
1. Not everything runs in the cloud. I know Google has a web-centric, cloud-computing perspective on the world, but not everything runs from the cloud. Sure, Picassa and Flickr have some photo editing capabilities, but they're not Adobe Photoshop.
That is just one example, but the point is that there are applications that pretty much have to be run locally. An operating system that is essentially just a web browser on steroids designed to run on low-end netbook hardware will not be able to fill that need.
2. The cloud isn't always available. In order to run all of your applications from the cloud, you have to be connected to the cloud. Wi-Fi connections are becoming more ubiquitous, but there are still plenty of places I go where there is no Wi-Fi available.
An airplane is a good example. Airlines are beginning to implement wireless network availability in-flight, but usually for a fee. That basically renders a Chrome OS netbook useless while flying unless you cave and pay the exorbitant airline access fees.
3. Games. One of the driving forces behind PC hardware development and PC sales is gaming. Nobody needs a $750 graphics card to use Microsoft Office, and a 5.1 surround sound speaker system is a little overkill for checking email.
Sure, there are games on the web. Thousands of them. Facebook users waste spend weeks of time playing Mafia Wars and Farmville. But, Farmville is no Spore. Hardcore gamers want the raw horsepower that a PC provides.
4. Chrome web browser. Google's Chrome web browser has been around for awhile. It has received some good reviews and has experience a relative degree of success in a crowded browser market.
That is admirable, but the Chrome web browser hasn't exactly caught fire. It isn't steamrolling Internet Explorer, or even Firefox, to capture browser market share. If the world isn't tripping over itself to get the web browser, it seems safe to assume we also won't flock to drop our Windows or Mac based hardware for a netbook running a glorified version of the browser we weren't using in the first place.
5. We can do most of that now for free. Google doesn't intend to offer the Chrome OS as a free application like most things Google. The plan is to make the Chrome OS available pre-installed on netbook hardware by the 2010 holiday season.
We can already do most, if not all, of what Chrome OS promises to deliver. Using a Windows 7 or Linux-based netbook, users can simply not install anything but a web browser and connect to the vast array of Google products and other web-based services and applications.
Netbooks have been successful at capturing the low-end PC market, and they provide a web-centric computing experience today. I am not sure why we should get excited that a year from now we'll be able to do the same thing, but locked into doing it from the fourth-place web browser.
The Chrome OS is half Linux and half Chrome web browser. Netbooks built on the Chrome OS will basically be web appliances running an operating system that is really just a web browser on steroids.
Google is virtually synonymous with the web, so its hard not to get excited. The Chrome OS may have something to offer the netbook audience, but it is not a threat to existing desktop operating systems at all.
My PC World counterpart Jared Newman seems to agree that the Chrome OS will essentially be a niche operating system. Jared feels, though, that Google is not trying to take over the operating system market and that, relative to what the OS is intended to be, Chrome will be a success. Perhaps.
If it didn't have the word 'Google' at the front, nobody would care and most people would simply dismiss the effort. Chrome OS will be little more than a niche product and it begs the question 'why bother?'
Tony Bradley tweets as @PCSecurityNews, and can be contacted at his Facebook page .