Have some extra USB hard drives you'd like to put to a good use? How using them to create an Internet storage cloud for your company, yourself, or your family?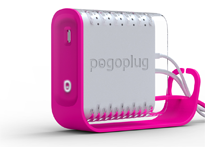 Though marketed primarily as a media-sharing device, the forthcoming second-generation Pogoplug is a cool and useful tool for sharing business information as well. The device was introduced earlier today.
Here's the pitch: For $129, Pogoplug gives you the ability to connect USB hard drives directly to the Internet. It provides a hardware device and online service that together provide secure file access and sharing.
Scheduled to ship next month, Pogoplug 2 (as I am calling it) is optimized for Internet viewing and sharing of multimedia files. It can, for example, stream video to an iPhone, which can also upload and download files from the storage cloud the Pogoplug creates.
Because the Pogoplug service keeps track of stored files–indexing across multiple hard drives–it allows users to share files without having to upload them. Optional Windows and Mac desktop apps provide local access to Pogoplug-managed storage.
There is no monthly charge for the online service, included in cost of the device. The new model offers four USB connections, allowing multiple drives to be connected without the need for a USB hub.
Other new features include better transcoding and wider support for streaming movies on the Web or to an iPhone app. The new software also provides the ability to automatically sync photos, music, videos, and other content from apps such as iTunes and iPhoto.
There is also tighter integration with Facebook, Twitter, and MySpace, as well as automatic organization of your music, photos, and videos. An address book remembers e-mail addresses with which you've shared content for future sharing.
The first version, introduced in January at CES, had but a single USB connection and was pretty utilitarian in appearance. (Here is our review).
The new Pogoplug is fairly attractive, if you like bright pink. If not, Seagate's DockStar is a somewhat less expensive device, based on Pogoplug technology.
The hitch? After the first year, Pogoplug service will cost Seagate customers $29.95-a-year. (The DockStar is one of our "25 Top Tech Gifts" for 2009).
Meanwhile, Pogoplug's maker, a company called Cloud Engines, said it will "soon" enable additional features, such as "backup, file synchronization, photo printing and more."
My take: I didn't think the first Pogoplug was useful enough the buy one, but having recenty discovered a half-dozen extra USB drives around my office, the device suddenly seems almost necessary. Storage is, after all, a terrible thing to waste.
I will probably order one online, that is if I can get past the obnoxious self-starting music and videos on the Pogoplug Web site. It keeps repeating over and over. With the product features now improved, maybe the site can be fixed, too.
David Coursey tweets as @techinciter and can be contacted via his Web site.