Tunebite Free is a hybrid app that does two different things well: audio and video conversion, and ripping video from the Web.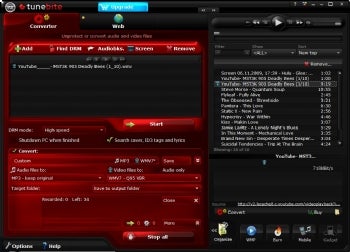 Tunebite can convert between many audio and video formats freely and with just a few clicks. Not a whole lot of technical knowledge is required to do this, as the built-in presets will be enough for most people. Tunebite even includes a virtual CD writer that lets you use programs like iTunes to burn many audio files protected with digital rights management (DRM) to an imaginary CD, which Tunebite can then convert to unprotected MP3s. Or, alternatively, Tunebite can do it, but one track at a time.
Tunebite doesn't actually crack digital management rights from an audio or video file. It simply recaptures and re-records the file quickly in an acceptable format, thereby avoiding any Digital Millennium Copyright Act law breakage. This has the drawback of taking longer than another method would. Tunebite Free is restricted to 60 seconds for any conversion, so after getting a taste of all its abilities, you'll want to pick up the full version to do anything serious.
Tunebite also rips video files from the Web as you browse, from places like YouTube. This half is a bit confusing: First, you navigate to the file on the Web–and Tunebite works with any video that streams from the Web–and press Play there. Then, the entire video file has to finish streaming from YouTube (for example), then you have to click the big Convert button inside Tunebite, then it'll save the file in Windows .WMV format, or just the audio in .MP3 format. Any other video or audio formats will require purchase of the full version.
I found that Tunebite was able to capture video from Youtube easily. However, sites that have protected video (such as Hulu) won't capture at all automatically. Instead, Tunebite includes a rudimentary screen capture utility that can capture a video inside a window (as long as you leave it alone for the entire running time and don't have any pop-up windows). However, there's no fullscreen capture feature–it seems the screen capture window won't cover a full screen video, because the screen capture utility disappeared when I switched to full screen. My e-mail to the vendor asking about this has gone unanswered. Therefore, this workaround isn't all that useful–except to possibly convert to a lower-res video format such as the iPhone (again, an ability only present in the full version).
Though it's useful out of the box for capturing a bunch of YouTube videos, Tunebite Free is more like a pretty severely restricted demo than true freeware. Any real conversion of any kind, whether it be an Internet video or any other video or audio file, will require the full application, and those who want to save a lot of YouTube video–or do a lot of video conversion for the iPhone or other mobile gadgets–will want to check this baby out.
Note: The free version allows you to record the audio tracks from 40 videos and save them as MP3 format. It's missing several video codecs for most video conversions. All conversion is limited to 60 seconds. There's also a nag screen each time you launch. The full version removes these restrictions. There are three tiers of paid versions: Tunebite Premium, which has unlimited recording and MP3 saving for $27, Tunebite Platinum, which adds video conversion and DRM removal for $40, and AudialsOne, which is a $60 bundle of many of vendor Audials's products.