Wouldn't it be nice if you could make a mash-up of Microsoft Office and Google Docs, using all of Office's great tools for document creation and editing, and Google Docs's online storage and collaboration tools? With OffiSync (free), that's exactly what you can do. You use Office to create your documents, and can then store and access those documents via Google Docs, without having to use Google Docs itself. Instead, you do the editing in Office, then save them and get them from Google Docs.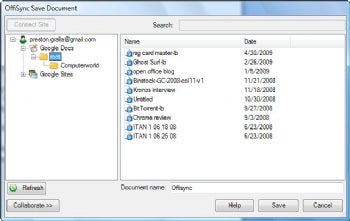 OffiSync lives directly inside Office, as part of the same overall menu you use for opening files. A new entry, OffiSync, appears there. From here, you can save files to Google Docs, open files from Google Docs, add or remove collaborators to documents, and send a link to a Google Doc document via e-mail. It's exceptionally easy to use.
The standard version of OffiSync is free, but there is also a for-pay premium version available with extra features, such as integrating it with the free Google Sites Web-site creation service. But most people won't need to pay for the premium version. The free version does an excellent job of combining the best of Office with Google Docs.