At a Glance
Expert's Rating
Pros
Many extra security features
Good proactive protection
Cons
Less effective traditional detection
Warning pop-ups can be confusing
Our Verdict
Kaspersky Anti-Virus has plenty of features, but is inconsistent thanks to its below-average traditional malware detection and at-times frustrating user interface.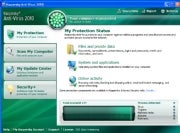 Kaspersky's third-place ranking in our roundup of stand-alone antivirus programs reflects its ability both to impress and to disappoint. It pairs competent proactive protection with below-average signature detection, and a strong feature set with an at-times annoying user experience.
In traditional detection tests performed by AV-Test.org, this Russian-made program ($60 for a one-year, three-PC license) detected 97.27 percent of known malware samples–lackluster when compared with the performance of some competing apps we tested, which caught 99 percent or more of the threats. It fared better in heuristics tests that gauge how well a program protects against new malware with no known signature. At a time when the bad guys crank out astounding numbers of malware variants to evade traditional signature scanners, such proactive protection is more important than ever. Here Kaspersky came in third with a 66.83 percent block rate.
Like Norton, Kaspersky did very well in rootkit detection: It managed to detect, block, and remove all ten stealth malware samples that we threw at it. It also de­­tected and disabled all ten test infections, and proved more successful than most apps at getting rid of less harmful elements, such as Registry changes. Only Norton Antivirus and F-Secure Anti-virus were able to clear out more of the less-important junk.
In speed tests for automatic scans that typically occur when you open or copy a file, Kaspersky achieved a 12.15MBps throughput. Only the application from Avira–which didn't make our chart–was more nimble in that regard.
In features, Kaspersky has much to offer, with extras such as recommendations for system hardening, a virtual keyboard, and a scanner for out-of-date software. However, Kaspersky lacks descriptions for some of its recommendations, so you might be left wondering why you should take a recommended action such as disabling Autorun. And while updating old software is one of the best things you can do to keep your computer safe, you have to jump through many hoops to act on what Kaspersky finds.
The app's malware warning messages tend to be more confusing than informative. In our tests it displayed multiple different warning pop-ups for successive tests involving the same sample. And for either manual or scheduled scans, you'll know what it finds only if you happen to sit around and catch the pop-ups that appear during the scan. There's no scan summary window listing discovered files.
Kaspersky's antivirus app would likely get the job done when it comes to protecting a PC, but it's not the best bet for either detection or ease of use.