When Google unveiled its open source Chrome OS on Thursday, many commentators were quick to dismiss the new operating system as unimpressive and underwhelming. Citing everything from the browser interface that represents the entirety of the user experience to its limited hardware support and inability to install apps or play PC games, early critics have slammed Google's cloud-based OS for being exactly what it is intended to be: lean, fast, and simple.
To my eye, all this criticism appears to miss the point of Chrome OS–and indeed, the point of most of Google's services. Of course, this is nothing new for Google.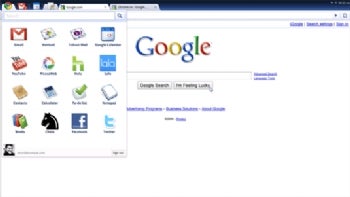 Simplicity By Design
At the launch of the company's eponymous search engine in 1998, Google stood out from the pack of increasingly cluttered search portals with which it competed. In a time when leading Internet companies sought to become destinations by loading up their home pages with news, weather, entertainment links, shopping deals, and anything else they could think of, Google took a different tack by presenting a clean, white page with little more than a search field under the site's name.
I distinctly recall several colleagues scoffing at the simplicity of Google's home page at the time. Where were the news articles? The stock tickers? The pictures of celebrities? Why would anyone want a home page consisting of nothing but a search engine? Yet Google's pundit-defying search tool quickly became the home page of choice for millions of users worldwide.
Over time, Google rolled out additional services, including a few built to deliver the very services its home page lacked. But with every new service it launched, Google retained its characteristic simplicity, putting information–not splashy design–at the foreground.
Chrome OS is an obvious extension of Google's design simplicity, and it's no great surprise that many observers are unimpressed by the sight of it. It's little more than a Web browser. On first glimpse, it's nearly identical to the Chrome browser that's currently available for Windows PCs. And that's exactly what Google is going for.
The central principle behind Chrome OS is that the browser is the focal point for most computing tasks. So Google has put it front and center in Chrome, reducing the rest of the operating system down to a minimal Linux kernel that drives only the most essential hardware components for a Web-centric user.
Life in the Cloud
Google has designed Chrome OS as a platform for people who use computers primarily online, and the company is betting that many folks will happily trade their desktop apps for alternatives in the cloud. Naturally, this won't appeal to all users. I'd even say it won't appeal to most users, at least initially.
But multiple lines of evidence suggest that cloud services are the computing model for the future–a fact that even desktop-dominant Microsoft has embraced, as it prepares to roll out its Office Live services as a companion to its longstanding desktop suite (a companion that many savvy users will undoubtedly use in lieu of the desktop suite). What lines of evidence am I talking about? Enterprise adoption, device-agnostic work habits, and nearly constant wireless connectivity.
Cloud computing is now a standard business practice worldwide. For a start, two million companies (ranging from small mom-and-pop operations to large enterprises like Genentech and Motorola–use Google Apps for e-mail, document editing, collaboration, scheduling, and intranet hosting. CRM tools like Salesforce.com are rapidly replacing desktop and client-server application suites for sales teams of all sizes. Hosting providers like Rackspace are attracting major companies such as Sears, Volvo, and KFC with the promise of cheap, rock-solid server management and storage in the cloud. Perusing the list of companies that rely on just these few examples pokes a gaping hole in the ill-considered argument that cloud computing is either too flaky or too unsecured for serious business.
At the same time, knowledge workers now operate in a device-agnostic work environment that has old-school desktop PCs working alongside laptops, netbooks, and cell phones on a daily basis. RIM's BlackBerry, which has been the leading standard in U.S. smartphones for business since the beginning of this century, has proven beyond all doubt that small mobile devices can do mission-critical work with minimal specs and software.
The launch of the iPhone demonstrated that, armed with a decent Web browser, phones can do more than most of us ever imagined we'd want them to. Add to this mix the proliferation of netbooks, and you have a world in which millions of users can not only work from anywhere, but also need to keep important data synced between two, three, or even four machines at any given time. And the best tools for keeping all that data synced, such as SugarSync and Dropbox, are based in the cloud.
Wi-Fi is not ubiquitous, but it's darned widespread and still rapidly spreading. Wireless broadband ain't cheap, but it's getting cheaper all the time. When I travel, I find myself almost constantly connected to the Web. With my existing netbook (which doesn't have a 3G card), I typically get a wireless connection at the airport, on the plane, in my hotel room, at conference centers, and at any cafes I stop at along the way. Wireless networks are now so common that I can seldom use lack of connectivity as an excuse to stop working.
If I had a 3G card, I'd be able to use it in all the in-between places, too, such as taxis, trains, and park benches. But since I don't, I use Google Gears to keep my Gmail, Google Docs, and Google Calendar data cached to my local drive for those rare moments when I'm not online. Any work I do offline gets synced automatically back to the cloud the next time I connect from anywhere.
My point here is that wireless access has become so nearly constant that the cloud has become the hands-down simplest way to keep everything handy at any given time. And when I get back to the office and my desktop PC, I can just keep working without worrying about e-mailing files to myself or plugging in USB drives.
How Much PC Do You Need?
If you work in a field that requires powerful specialized software such as CAD or Adobe's Creative Suite, Chrome OS isn't for you–at least not for work. But a relatively small percentage of the work force actually requires such tools. Most of us spend our work day in word processors, spreadsheets, presentation builders, e-mail clients, and browsers. Meanwhile, home users typically use their PCs for things like e-mail, shopping, and social networking, and typing up documents. For these kinds of activities, the Web offers a wealth of good options.
Even photo editing, one of the most common computing tasks, has become pretty darned good online. Photoshop.com offers all the editing tools a typical user is likely to need, along with 2GB of free storage space to keep pictures in. JayCut offers a good Web-based video editor with no upload limit, and lets you automatically share your creations on social sites like Facebook, export them to your media player, or burn them to DVD. And the list of free online music services is so long that it hardly bears rehashing. So, apart from a dogmatic attachment to desktop applications, there are few good reasons that a simple, browser-based OS like Chrome couldn't meet most users' needs most of the time.
If you're willing to use the Web as your computing platform, there's little reason to bother running a powerful desktop operating system. In fact, it may actually be slowing you down. A big, powerful, do-everything OS takes a long time to boot and requires a significant chunk of processing power, RAM, and storage just to run its own processes. An "underwhelming" OS like Chrome would eliminate most of that overhead and put more of your computer's resources into actually doing the things you want to do.
Forget the Platform, Just Get Things Done
Most of us have grown accustomed to thinking about, managing, and tweaking our operating systems. Whether we run Windows, Mac OS X, or Linux, the OS is a persistent influence on the way we work. It dictates which apps we can run on our machines, and how we get to those apps. But if we take the OS out of the equation and just go straight to the browser, we're all pretty much living and working in the same environment: the Web. Suddenly, it no longer matters much what kind of computer we're using.
In truth, I've been working this way for years. Because I switch daily between Windows, Mac, and Linux, I don't get too attached to any given desktop app. I prefer to work on the Web, where I'm sure the stuff I use most will work with any computer that happens to be sitting in front of me. I move smoothly from my iMac to my Ubuntu netbook to my Windows workstation, accessing my favorite Web apps from all of them. And I've quickly found that my Android phone stands in nicely for any of these when I don't have a computer handy.
Chrome OS fits easily into this way of working, because it just turns on and works. Instead of waiting for the computer to boot and then launching the browser, you'll just hit the power button, log in, and go. I attended the live demo at the Googleplex, and I've now spent a couple of days messing around with a Chromium open-source build in a virtual machine, and it appears to genuinely live up to this promise. There's almost no OS there at all. Apart from the battery monitor, there's little in the interface to even indicate the presence of a computer outside the browser. I know it ain't for everyone, but to me, this is a step in the right direction.
It Ain't About the OS, and It Ain't About Google
For Chrome OS, "unimpressive" is practically a compliment. If you're not impressed with the operating system, that means it's doing what it's supposed to be doing, which is getting out of your way so you can get on with your life.
Ultimately, anyone could've made an operating system like this. And because Chromium is open source, pretty much anyone can. I'd love to see the open source community dive into this code and produce other flavors of browser-centric operating systems. It seems to me that there's very little stopping anyone from producing a Mozilla-based variant of Chromium for Firefox fans.
Even Microsoft and Apple could take a stab at this if they wanted to, as I have little doubt that streamlined Internet Explorer and Safari systems would be good for those respective user bases. While the big OS makers will likely continue to serve the majority of users with their full-blown operating systems for years and years to come, this minimal-OS model could very well prove to be a whole new market for them, too, providing useful alternatives to the sluggish, bloated platforms that have dominated the computing world for far too long.
I've just about had it with operating systems that nag me with notification bubbles and maintenance tasks. I have actual work to do that doesn't involve worrying about whether the software that runs my computer is stable, up-to-date, backed up, or secure. Sure, I like tinkering with my computer. If I didn't, I wouldn't have this job in the first place. But I want to tinker and explore on my own time, not when my OS demands it of me.
Robert Strohmeyer is a senior editor at PC World. He tweets as @rstrohmeyer.