Canadian pop singer Justin Bieber owes his entire career to the Internet. When he was the ripe old age of 13, Bieber and his family began posting videos of his performances on YouTube. Someone in a suit liked the tunes and boom — Bieber was signed with Usher's label. Now his infamy shall be cast in the iron of the Web, as one of Bieber's team was arrested for not using Twitter. One more time: arrested for not using Twitter.
James A. Roppo, 44, senior vice president of Bieber's label, Island Def Jam Records, was arrested November 20 on felony assault charges.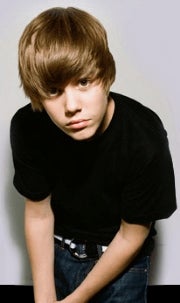 Three thousand crazy screaming girls (and their parents) showed up at Roosevelt Field Mall in Long Island for a Bieber album signing. Soon, the crowd became unhinged with teenybop bloodlust, and Roppo refused to send out a Twitter message saying the signing had been canceled. This "reckless behavior," as police called it, resulted in escorts to the hospital for five and a "minor injury" on a crowd-control police officer. Roppo was also charged with endangering the welfare of a child, obstruction of governmental administration, reckless endangerment, and criminal nuisance. That's a lot of wrist-slapping for 140 characters of "Please calm the expletive down."
A pair of tweets did emerge from Bieber's stronghold. At 4:30 PM EST, Bieber tweeted "they are not allowing me to come into the mall. if you dont leave I and my fans will be arrested as the police just told us." Three minutes later: "the event at roosevelt mall is cancelled. please go home. the police have already arrested one person from my camp. I dont want anyone hurt." So it's apparent that the 15-year-old singer was a wee bit late to the game.
All Things Digital found a YouTube video of the manic mall crowd and aptly stated, "Not sure how helpful Twitter would have in the face of this."
This makes no sense to me at all. When your face is violently pressed against the window of a Banana Republic or a 12-year-old girl with braces is gnawing your leg off, is your first thought, "Gee, I should check the Twitter client on my smartphone and see if Justin is asking us to leave the mall"? That's absurd. My first thought would be, "What the hell am I doing here to begin with?" My second thought would be, "This is out of control and I should probably just go home … or pull out my katana and show these tweens who's who."
Either way, Roppo has pled not guilty, police are blaming mall security, and Bieber's career ought to receive a tiny boost due to the fact that he's now important enough to incite a riot.