It's official: AOL is now Aol. As the fading Internet giant nears its 20th anniversary, the newly independent media company is prepping for another revamp. The latest step is a new logo, as seen below. The corporate name is now spelled with an upper case "A," a lower case "o" and "l," and a period: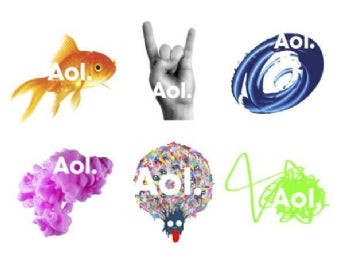 Today's AOL, er, Aol. — my spell checker sure hates that period — is a shell of its former self. Last week the company announced plans to cut a third of its staff, or up to 2500 employees, as it prepares to spin off from parent firm Time Warner. The pricey restructuring is expected to cost AOL some $200 in the coming months.
The new Aol. brand will be unveiled December 10 when AOL common stock starts trading on the New York Stock exchange, the company announced.
So what's the deal with the new look? The Aol. brand is designed to be"open and generous, to invite conversation and collaboration, and to feel credible, but also aspirational," says Karl Heiselman, CEO of Wolff Olins, the branding consultancy that created the logo.
Will the cosmetic surgery work? It's hard to say. AOL is now positioning itself as an online media company. Its advertising revenue is generated by an eclectic mix of content sites, including the AOL.com portal, gossip monger TMZ, and tech blogs such as Engadget.
I'm not sure if "Aol." is the right look. Cynics may suggest that the lower case characters symbolize erectile dysfunction. As AOL ages ungracefully, it's not the virile Internet player it once was. And the period? It's an end point. At its peak, AOL claimed as many as 34 million subscribers. Those days are long gone.
Will AOL be able to reinvent itself?
Contact Jeff Bertolucci via Twitter (@jbertolucci ) or at jbertolucci.blogspot.com.