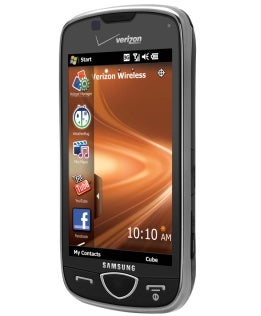 With the launch of Windows Mobile 6.5 last month, we saw a variety of new smartphones showcasing the updated OS. But truthfully, none of them were exactly mind-blowing. Sure, the HTC Pure and Tilt 2 and others are solid phones, but none of them impressed us like the recent crop of Android phones. Windows Mobile fans may no longer have to feel left out: Verizon today announced the Omnia II, available December 2 for $200 with a two-year contract.
The candybar Omnia II sports a 3.7-inch WVGA AMOLED display. AMOLED is becoming the standard for Samsung's high-end smartphones and we were impressed by the quality on phones like the Samsung Moment and Behold II. There's no physical keyboard, however, so you'll have to rely on the virtual QWERTY keyboard with Swype technology. Swype lets you type faster and easier with one continuous finger or stylus motion across the screen keyboard.
Predictably, Samsung's TouchWiz 2.0 interface runs over Windows Mobile 6.5. I have a love/hate relationship with TouchWiz 2.0. While the widget-based interface is intuitive and touch-friendly, it can be slow and feels a bit cluttered. I'm also not a fan of the 3D Cube menu, which we also saw on the Android-powered Behold II. It felt clunky and unnecessary.
The Omnia II also boasts a 5-megapixel camera with a flash, autofocus, video recording capabilities and on-device editing features. I was really impressed with the Behold II's 5-megapixel camera so I hope the Omnia II's is of a similar caliber. You also get the speedy Opera 9.5 enhanced browser, access to Samsung's Widget Store (free widgets to customize your homescreen) and DivX and Xvid video file support.
So is the Omnia II attractive enough to keep Windows Mobile fans happy or sway new customers? Or is everyone drifting toward Android phones? Stay tuned for a full review next week.