At a Glance
Expert's Rating
Pros
Good screen is legible in direct sunlight
Switchable GPU and overclocked CPU
Cons
The touchpad and mouse button are terrible
Feels a little flimsy
Our Verdict
The UL80Vt-A1 delivers good battery life, a discrete GPU, and a surprisingly snappy user experience, but gets held back on design choices.
Asus has its work cut out for it in finding a market for the UL80Vt-A1. This laptop has a higher price ($849) than many similarly specced competitors, though it's in the same ballpark as its $800 stablemate, the Asus UL30A. So how does Asus justify the price tag?
The answer is surprisingly simple: long battery life (6 hours on our review unit) and better-than-average flexibility. The UL80Vt-A1 includes both a discrete nVidia G210M graphics system and an integrated Intel alternative, so users can switch on the fly to adjust the laptop's performance and battery life to the task at hand. Another appealing feature is the unit's power-sipping LED backlit display.
The UL80Vt-A1 comes with 64-bit Windows 7 Home Premium and 4GB of DDR3 memory installed. The Intel processor at the heart of this laptop is a 1.3GHz CPU factory-overclocked to 1.7GHz. The UL80Vt-A1 earned a WorldBench 6 score of 76–reasonably swift for its class but hardly smoking fast. In any case, the user experience was generally positive.
The UL80Vt-A1 felt pretty snappy and responsive during everyday use, even with Aero Shake and Flip 3D enabled. The dedicated nVidia graphics kick in by default at high performance settings. As a result, the laptop turned in frame rates above 35 frames per second on both Unreal Tournament 3 and Quake Wars: Enemy Territory at 800 by 600 resolution and high quality. Though the UL80Vt-A1 isn't a gaming machine, you can throw games at it occasionally and get surprisingly playable results.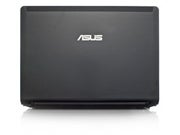 When closed, the UL80Vt-A1's attractive brushed metal finish on the lid looks slick without seeming ostentatious. With the lid is open, things remain streamlined, but the glossy finish around the display and around the keyboard made the typing experience problematic: My hands constantly stuck or skidded across it. That's a shame because the keyboard itself is great, with a Chiclet-style layout of inlaid keys on a flat panel.
The UL80Vt-A1's 14-inch display delivered so-so color reproduction, tending toward a slightly washed out appearance. The screen is bright and extremely readable in every lighting condition we tested it in, including direct sunlight. In fact, at its highest setting, the display sometimes verges on too bright. I would have preferred a higher-resolution screen, but this might have presented problems with the switchable discrete/integrated graphics options. Despite the underwhelming resolution options, I havd no trouble with such day-to-day tasks as working with Word documents and Excel spreadsheets.
Editing those documents is another matter. I've already mentioned the slippery finish around the keyboard. The mouse button is awful. In lieu of dedicated right and left clicks, you get a single button that pivots left or right on a central point. This design is getting more common these days (it also shows up on the Gateway NV5807u, for example)–and the trend needs to stop. You have to use considerable pressure to get the button to click, which makes working with the mouse even worse.
The UL80Vt-A1 comes with a fairly robust array of software options for protecting and restoring data. The backup utility is intuitive and yet reasonably feature-rich. The electronic user manual is welcome, too.
The laptop's speakers are standard fare for a machine not expressly dedicated to multimedia. The sound quality isn't awful–with no appreciable distortion at moderate volume levels–but the absence of a dedicated subwoofer makes the UL80v inappropriate for serious listening.
The UL80Vt-A1 covers its base respectably. Strong battery life and surprisingly responsive performance give Asus's latest rig two solid legs to stand on. The only major drawbacks here are the price and that wretched mouse.
Note: When you purchase something after clicking links in our articles, we may earn a small commission. Read our affiliate link policy for more details.