VistaSwitcher is an enhancement/replacement for the hoary, ancient, alt-tab program switcher attached to Vista like the vestigial leg bones buried deep inside a blue whale. It's free and nifty. It's available in a 32-bit version and a 64-bit version. Go ahead and download the one that suits your system.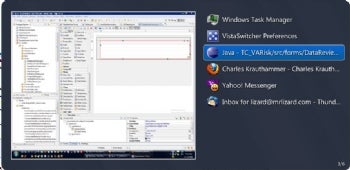 As well as providing a much more aesthetically pleasing task switching window, VistaSwitcher provides a lot more functionality–especially if you have many instances of the same application, such as multiple Word or Excel documents. VistaSwitcher shows you a larger preview window, making it easier to pick the document you like.
VistaSwitcher adds a new feature, alt-` (that's the backtick, located just above the tab on most keyboards), which shows you just the windows associated with the current application. This allows you to quickly switch from one Excel sheet to another without being distracted by Word documents or browser windows.
VistaSwitcher also allows for keyboardless application switching. You can set it to use the right mouse button and mouse wheel to switch–hold down the right mouse button and scroll through the app list with the wheel. For further customizability, you can make the task window 'sticky'–it won't go away when you release the summoning keys, but will wait for you to hit enter or otherwise confirm your selection. This can prevent accidental switches, and makes it easier to find a window in a long list, as you don't need to keep holding down keys while you scroll. (You can also set the number of items which show in the list, as well as the default position of the window.)
This program is still formally in beta test, and some features, such as font selection and theme, are not yet implemented. Although these would be nice from the "Oooh! Shiny!" perspective, their absence doesn't hinder VistaSwitcher's functionality, which is notably more than Vista's default task management.