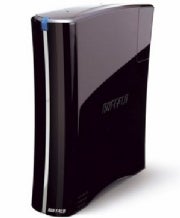 In spite of rumors that the first USB 3.0 products wouldn't surface until the 2010 Consumer Electronics Show in Las Vegas, Buffalo Technology has beaten all comers to the punch by announcing today it was shipping its new DriveStation HD-HXU3 SuperSpeed USB 3.0 drive.
We've been hearing about USB 3.0 all year long, starting with early discussions about the specification at the Consumer Electronics Show. Delays in the chipsets using the new controller led to delays in the first motherboards. But apparently, Buffalo's drive is a go–and the company is offering its own two-port USB 3.0 PCI Express card, the IFC-PCIE2U3, for use with either PC or Mac systems.
This is a wise move, if only given that USB 3.0 will remain a rarity for some time into next year. But more interesting is that the card, also announced today, is nowhere to be found on Buffalo's site. Furthermore, while the drive is visible, the Buy Now links present on other Buffalo pages is not there.
It almost makes me wonder if this is a case of different definitions of shipping. If I were a cynicist, I would wonder if the drive has shipped from the factory, for example, but isn't yet at stores. Which makes this announcement more about announcing, and less about putting product into consumers' hands.
I've been looking forward to USB 3.0 and the improved performance the new SuperSpeed spec promises: A maximum data rate of 4.8 gigabits per second, as compared with 480 megabits per second for Hi-Speed USB (USB 2.0).
When this drive actually does become available, it will ship in 1TB ($200), 1.5TB ($250), and 2TB ($400) capacities, and will include Memeo AutoBackup software for Windows and Mac.