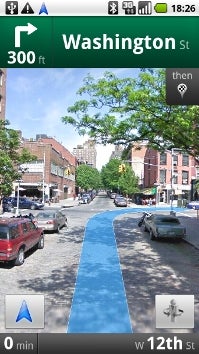 Navigating your way out of town for Thanksgiving got easier for more Android users, thanks to Google. In a blog post , Google announced that Google Maps Navigation Beta (of course) is now available for free for mobile devices running Android version 1.6 and higher.
That means that users of phones such as T-Mobile's G1 and the myTouch 3G will have access to the app's excellent navigation features. Google Maps Navigation enhances turn-by-turn navigation by merging GPS functionality with features you're already used to on Google Maps such as street view , satellite view , and searching for a specific business by name.
Who can use Google Maps Navigation?
The application was launched on the Motorola Droid, which runs Android 2.0, last month, but is now available for any device running Android 1.6 or higher. Navigation-capable devices include the T-Mobile G1 and myTouch 3G, according to Google. Motorola Cliq users will not be able to use the new feature at the moment since the Cliq is running Android 1.5. Motorola has not said whether it will upgrade Cliq to 1.6 or 2.0 in the future.
How do I get Google Maps Navigation?
To get the new feature, visit the Android Marketplace from your mobile device and download the latest version of Google Maps.
What do you get?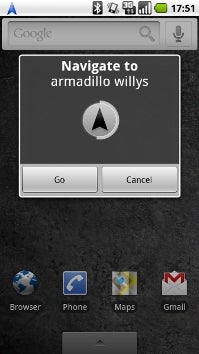 Google Maps Navigation has a variety of handy features to help you get where you're going including live traffic data from the Internet, satellite view, street view and the ability to search for a new destination mid-route.
Google has also added a new set of features called layers, which allow you to place graphical overlays on top of your turn-by-turn directions. This lets you incorporate any personal maps you've created on Google Maps, overlays of urban transit lines and links to Wikipedia articles about a specific place.
What's Missing?
While Android 1.6 users can take advantage of most of the features that Android 2.0 users can, one feature you won't find is the "navigate to" voice command. Instead, Android 1.6 users are stuck with the old fashioned method of manually inputting directions using a keyboard.
However, you can make things easier on yourself by creating shortcuts for destinations you regularly drive to such as home and work. It's not likely you'll need this feature too often, but it could come in handy if you happen to be in an area you're not familiar with and need to find your way back.
GPS Makers May Lose Their Way
Google Maps Navigation is an incredible new addition to Google Maps and is clearly a disruptive force for GPS stand-alone unit makers such as TomTom and Garmin. For the moment, Google Maps Navigation is only available to Android users, but should this functionality make its way to the iPhone–for which turn-by-turn directions apps cost you as much as $100–and other mobile devices, Google's free feature could end up putting traditional GPS makers out of business.