Verizon has challenged Sprint's marketing claim that its "America's most dependable 3G network." The National Advertising Division of the Council of Better Business Bureaus has asked Sprint to drop the slogan in response to the Verizon complaint, expanding the ongoing marketing battle between the leading mobile service providers.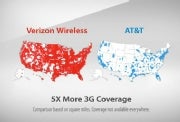 Verizon is already engaged in a heated battle with AT&T revolving around its 'There's a Map for That' ad campaign. Verizon's very clever marketing compares maps of the United States showing that Verizon has five times the 3G network coverage of rival provider AT&T.
AT&T has taken exception to the ads, claiming that the map is misleading and that consumers don't understand that the map only depicts 3G coverage. AT&T stresses that it does have coverage with its 2G EDGE network throughout the rest of the country.
AT&T suffered a legal setback when its request for an injunction to get Verizon to pull those ads was rejected by a federal judge last week. In the wake of that courtroom loss, AT&T has developed a new ad campaign featuring Luke Wilson in a feeble attempt to fire back at Verizon.
You might think that the claims of dubious marketing from AT&T would make Verizon less likely to engage in such petty squabbles, but apparently not. Citing a recent survey by Nielsen Co. that found Verizon had fewer dropped calls than Sprint, Verizon feels that Sprint has lost the ability to claim 'most reliable' bragging rights.
The issues between the mobile providers remind me a little of the legal battle between Pizza Hut and Papa John's. The Papa John's marketing slogan was "Better Ingredients. Better Pizza." Pizza Hut was initially victorious in demonstrating that the claim of "better" was arbitrary and misleading, but the ruling was eventually overturned in appeal.
The claims between the various mobile providers have a similar arbitrary feel. Sprint claims "most reliable." Verizon claims "biggest." AT&T claims "fastest." Each of the claims is backed up by facts, but those facts may be outdated, or may only be true in isolated instances. Essentially, the marketing is based on whatever survey or report paints the service in the best light.
In general, I don't feel that advertising campaigns are all that compelling in actually altering purchasing decisions. This is especially true with mobile communications where most customers are already contractually locked in to one provider or another, and the choice between providers typically comes down to which one has the exclusive distribution rights for the device the customer wants.
In this case, though, it's a little different. As long as Verizon, AT&T and Sprint all cover a given area I don't really care who covers more of the rest of the country, or even who might be faster by a millisecond or two. However, being able to claim "most reliable" actually could be a deciding factor for customers who are tired of dropped calls.
Regardless of the individual marketing claims, the battles between the various providers is indicative of just how competitive the mobile communications market is. Bottom line: it's on. You want in T-Mobile?
Tony Bradley tweets as @PCSecurityNews, and can be contacted at his Facebook page .