If you have more than one computer, and you're looking for a way to share their screen real estate, you could put the unique program MaxiVista ($40, free usage-limited demo or 15-day trial) to good use. Available in 32-bit and 64-bit versions, this program lets you turn a second PC or laptop into an extension of your main monitor, allowing you to treat their screens as if they were part of the same display. In that way, you can use both monitors as if they were one large one. Both PCs will have to be on the same network.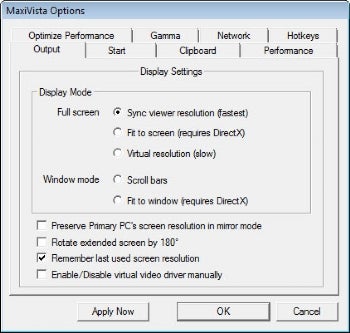 If you're not already a multiple monitor aficionado, using more than one monitor can be disconcerting at first, and you'll probably lose sight of where your cursor is more than once. But after you get used to it, you'll appreciate all the extra screen real estate MaxiVista gives you. You can arrange the second monitor however you'd like, either as a vertical or horizontal extension of your main monitor.
MaxiVista does more than extend your monitor to a second PC. It also lets you mirror one PC's desktop onto another, so that one PC can watch what the other is doing.
Note that setting up MaxiVista can be rather complex, and so you should carefully follow the instructions. You'll have to tell the firewall on each PC to allow MaxiVista through. And you don't install the complete version of the program on each PC–you install the complete version only on the main computer, the one whose monitor is being extended. For the other computer, you install only a viewer program, which is created when you install the complete version of MaxiVista on one PC. You copy the viewer program to the second PC and install it from there. Also note that Windows Aero is disabled while MaxiVista is in use on Windows Vista and Windows 7 PCs. Aero gets turned back on after you stop using MaxiVista.