At a Glance
Expert's Rating
Pros
4 easy access drive bays
Fastest box we've tested to date
Cons
Requires local software to configure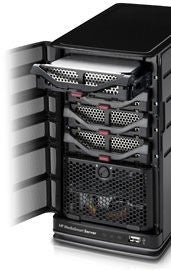 With the addition of more processing power (2.5GHz versus 2.0GHz), HP's MediaSmart EX495 not only bested its EX487 stablemate that we reviewed earlier this year, but proved to be the fastest network-attached storage box we've ever tested. Move over, Synology DS209+ II! The EX495 was particularly fast during virus scans and at finding files thanks to the indexing feature of its Windows Home Server operating system.
The EX495 ships with one 1.5TB drive instead of the two 750GB units that the EX487 features–which means there's no possibility of data redundancy unless you add another drive. The EX495 is otherwise physically identical to the EX487, with four bays (three open) for internal storage expansion, as well as four USB ports and an eSATA port for external storage and printers. It's also one of the more attractive-looking units on the market.
The EX495 offers a nice array of services, including backup and restore of network PCs; backup of the unit itself; and photo, music, iTunes, and video serving and sharing–but none of the more esoteric features such as the video surveillance that Synology and others have implemented.
My only complaint about the EX495 is an ongoing gripe with the Windows Home Server operating system used by all the HP MediaSmart home servers: The initial setup requires that you install Microsoft's Connector software on your PC. Most NAS boxes set up via a simple Web browser connection. After you've set up the unit, you may configure it for access via a Windows Remote Desktop Connection as well as the Connector software, but RDC is only for users who know how not to muck up the system. On the other hand, Windows Home Server does allow for plug-ins such as antivirus software.
I wish the EX495 offered the option of two smaller drives and configuration via a Web browser, but those are minor issues with what is otherwise one sweet–and fast–NAS box.