If your existing display just isn't cutting it any more, then it might be time to step up to Ostendo's 43-inch curved monitor. This long-awaited display is now available to buy for just under $6,500.
The Ostendo CRVD is an LED-backlit display featuring a 32:10 aspect ratio. It was first spotted back in early 2008 when Alienware had it on display at the Consumer Electronics Show. It was sighted again a year later at Macworld 2009, this time sporting NEC branding. Since then, we've heard little on when to expect the quad-DLP display.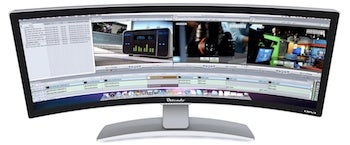 However, Ostendo has been quietly selling the CRVD since August. The 2880-by-900 pixel resolution monitor is available via Ostendo's Web site now for $6,499.
According to early reports, the CRVD monitor is selling rather well; Early adopters include the military, hardcore gamers, and the Crown prince of Dubai. Recession? What recession?
Ostendo posted a video showing gamer playing on not just one, but three (!), CRVD monitors. Watch in envy as he enjoys nearly $20,000 worth of pixels:
[Via Tom's Hardware]
Follow GeekTech and Chris Brandrick on Twitter.