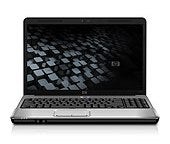 Black Friday doorbusters are loss leaders designed to whip up consumerist lust and draw shoppers to stores. Retailers typically lose money on these giveaways, but hope that while you're online or in store, you'll grab a few high-markup items too.
One of this year's most intriguing offers is a $197 HP laptop at Best Buy. Deal or no deal? We took a closer look.
That sounds awfully cheap. Is it a notebook or netbook?
The HP G60-507DX is a full-size laptop that weighs 6.6 pounds. It's certainly no bantamweight, but rather a luggable note. Its regular price is $550, so $197 is way cheap.
The CPU's probably a dog, right?
No. It's a 2.2GHz Intel Celeron 900 with an 800MHz front side bus and 1MB cache. That's a good chip, if a bit long in the tooth.
Vista or Windows 7?
Good news: Windows 7 Home Premium.
Is it underpowered?
Well, it won't be the fastest machine on the block, but it should handle basic tasks well. Key specs: 2GB DDR2 DIMM memory (expandable to 4GB) and a 160GB Serial ATA hard drive (7200 rpm). You'll want to add an extra 2 gigs of RAM to run Windows 7 better.
What about the graphics and display?
There's no discrete graphics processor for stellar performance, but rather the Intel Graphics Media Accelerator 4500M. The display is a 15.6-inch widescreen with 1366 x 768 resolution. Overall, not bad specs considering the sub-$200 price.
Blu-ray player?
Don't be greedy. There is an optical drive, though: DVD±RW/CD-RW unit with double-layer support.
Any bundled software?
Sure, the usual suspects: Microsoft Works, Cyberlink DVD Suite, Adobe Acrobat Reader, and a 60-day trial version of Microsoft Office Home and Student 2007.
So the HP G60-507DX is worth waiting in line for?
Yes, if you need a laptop, or know someone who does. This system has "student notebook" written all over it. It'd make a nice second P
C for the home or office too.
Will I be able to get one?
That's questionable. Best Buy says it'll have a minimum of 5 of these laptops per store. Does that mean 5 per store . . . period? I guess we'll find out Friday morning.
Can I get it online instead?
Yes, if you're quick enough. According to Best Buy's Doorbuster 2009 ad, the HP laptop (and other specials) will be available online and in store while supplies last. Just how long they last is anyone's guess.
Contact Jeff Bertolucci via Twitter (@jbertolucci ) or at jbertolucci.blogspot.com .