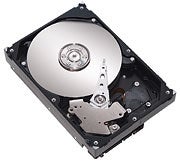 Every year the Black Friday label entices tenacious consumers to embark on their shopping frenzy. Make it easy on yourself. Skip the lines, sleep in, and enjoy these online hardware and component deals while they last. Note that most of these deals are time-sensitive.
Networking
The lower price of entry into the Wireless N market these days will hopefully push the new standard into many more homes. However, be aware that many of the N routers on sale below $30 are not dual-band, meaning G devices on the network will choke the overall speed. The more efficient (and more expensive) N routers that offer simultaneous dual band separate the G and N devices onto different frequencies which allow them to run at their optimal speed. If you know only N devices will be connecting to your network or you're creating a two router setup, here are a few deals:
Storage
When it's time for me to buy a new hard drive, I always ask myself, what can I buy for $100? These days, a 1.5 TB drive is in reach at that price point:
The 1.5TB Seagate Barracuda 7200.11 ST31500341AS internal 3.5-inch hard drive is available from Newegg for only $97 as a Black Friday special.

Amazon has a 1.5TB Western Digital Caviar Green internal drive for $90 plus free shipping. WD claims the Caviar Green reduces power consumption by up to 40%.

Need to burn Blu-ray? Burners are much more affordable than a year ago. Newegg has an 8x LG BD-R internal Blu-ray burner for $130. Purchase by the 30th and Newegg will toss in free Vermatim Blu-ray media.
Video
Plan to watch blu-ray on your PC? You'll need a monitor (and video card) that supports HDCP. Here are some options :
As part of its Thanksgiving Weekend Sale, Best Buy has the 20-inch Acer X203H monitor for $80. This widescreen display has a 1600-by-900 pixel resolution (a 16:9 aspect ratio) and DVI-out with HDCP.
If you want a 1080p-resolution monitor, consider the AOC F22, which TigerDirect has for $130 (list price: $170). This display supports 1920-by-1080 pixel resolution, so you can watch your Blu-ray movies in all their glory.
And the video card to complement it:
Newegg offers an Nvidia GeForce GTS 250 PCIe 2.0 card from PNY for $120 ($30 of its regular price). This HDCP-ready card features 1GB of DDR3 video memory. Newegg is offering free 3D vision glasses with this card while supplies last.
Story updated to fix an incorrect link.