[EDITOR'S NOTE: This story has been updated to correct the author's use of the term "pre-sold" to describe Walmart's pre-allocation of some sale products to customers who arrived early. These items were apparently not pre-sold, though customers who arrived prior to the sale were issued tickets that reserved them right to purchase one of the limited-quantity items when the sale began at 5 a.m. PC World regrets this inadvertent inaccuracy.]
TRACY, CA — Black Friday customers who arrived at the Walmart store here, expecting to purchase an e-Machines laptop for the $198 Black Friday price, were surprised to find the entire shipment of 37 units had been assigned to other customers the day before.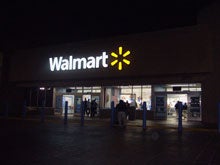 A store manager admitted that the only way for a customer to know that tickets allowing later purchase of the machines were being distributed early would have been to call the store and ask.
Such tickets are used by other stores–such as Best Buy–but were not mentioned in Walmart's Black Friday advertising, which only said the laptops would be on sale from 5 a.m. until 10 a.m.
"That really sucks," said one unhappy customer when he learned he could not purchase a laptop, despite arriving at the store at 5 a.m. when the sale was supposed to start "How was I supposed to know to call?"
The Walmart manager, named Mark, said other tech products had been pre-allocated to customers in the same way as well, but did not elaborate.
Still other products, supposedly available for the entire day, did not go on sale until 5 a.m., despite the store having been open since midnight.
Mark, the store manager, said the company changed its Black Friday strategy this year, following the death of a security guard, crushed by customers when a Long Island opened on Black Friday 2008. This year, the Los Angeles Times reported two minor incidents on at Walmart stores on Friday.
"There are some things we need to refine," the Tracy manager said when asked why someone who arrived at the advertised time–5 a.m.–was unable to purchase the advertised laptop. It appeared that customers who lined up inside the store as early as 3 a.m. had not been told the item would be unavailable.
It is unclear whether the early ticket distribution was done at Walmart stores nationwide or only in limited areas. It appeared other computers, including a $298 HP model, were also presold.
Stocks of a $589 HP All-in-One desktop, $78 1TB external drives, and other computer items were not pre-allocated with tickets, and became available at 5 a.m., as promised in the store's advertising.
Unlike past years, the Tracy, California store had been open 24 hours on Thanksgiving, and early-arriving customers were allowed inside the store, where they clustered around the items they wished to purchase.
Most of the sale items were stacked on pallets and shrink-wrapped, with signs warning that the merchandise was not to be sold before 5 a.m. on Black Friday, Nov. 27.
David Coursey tweets as @techinciter and may be contacted through his Web site.