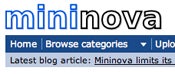 Mininova, one of the largest peer-to-peer (P2P) file sharing sites next to The Pirate Bay, has now removed most of its links to copyrighted content. The site complied with a Dutch court ruling from August. Mininova has said it is considering appealing that ruling.
Netherlands-based Mininova has risen in recent months as one of the most popular torrent sites on the Internet, alongside The Pirate Bay, which is still maintaining a strong presence despite fines and threats to close down the site. But Mininova had to comply with a court ruling from three months ago, which ordered the site to remove all the links to illegal content.
Removing all illegal torrents from Mininova would mainly leave the site without content. Mininova used to link to several popular categories of copyrighted files, such as TV rips of U.S. prime-time shows (Heroes, Stargate Universe, Fringe, etc.) and the latest music releases from popular artists (Jay Z, Lady Gaga, Whitney Houston, and others).
Mininova also used to be visited by more than five million users daily, but only legal content will be available from now on through the site's Content Distribution service. This will probably turn away most of the visitors to more obscure torrent sites, in search for popular content.
The Eradication of Torrent Sites?
Due to declining sales, the music and movie giants have been targeting large illegal file-sharing hotspots on the Internet. Mininova's demise is only the latest move in what it looks like an attempt to eradicate torrent sites. The most popular case so far has been The Pirate Bay, which stirred a round of controversy around the world back in April.
Since then, we have seen yet another torrent site going under the radar, Demonoid, due to alleged hardware problems. Now, Mininova is just the latest illegal torrents site to fall under the axe of authorities.
However, it is likely that the illegal content that made sites such as Mininova popular will find another home very soon. There are already other up and coming sites serving such content (BTjunkie, isoHunt), next to The Pirate Bay, which despite court orders, still keeps its online presence going.