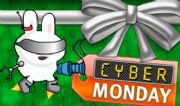 If Black Friday wasn't enough for you, you're in luck. Cyber Monday, which occurs Nov. 30 this year, brings a new round of dirt-cheap discounts. What's the distinction between these two marketing gimmicks? Well, Black Friday, the much-hyped start of the gift-buying season, came first. Originally a brick-and-mortar happening the day after Thanksgiving, BF has mutated into a November-long orgy of screaming buys. It has since moved online too; Web-only retailers such as Amazon now offer just as many BF deals as their offline competitors.
Cyber Monday was cooked up in 2005 as Black Friday's online sibling, a virtual deal-a-thon where e-tailers could trot out their sweetest deals. Labeled the busiest online shopping day of the year–a claim that may or may not be true–Cyber Monday has since become a very big deal to online merchants.
How big? U.S. consumers last year spent $846 million dollars on Cyber Monday, a 15 percent increase over 2007, according to comScore. That explains why retailers continue to hype CM, despite the fact that Black Friday has usurped much of CM's online thunder.
So if Black Friday hasn't already maxed out your credit, here are some Cyber Monday tips worth following:
· As with Black Friday, check out deal sites such as dealnews.com and GottaDeal.com for Cyber Monday specials. Those sites' forums are often a great resource for bargain-hunting tips too.
· A Cyber Monday "deal" may not be so hot. Use price-comparison sites such as PriceGrabber.com and Shopping.com to be sure you're getting the best price.
· Be wary of fake holiday bargains that typically arrive via spam email.
· Don't be in such a rush to buy. If Black Friday and Cyber Monday sales prove disappointing, panicky retailers may be forced to cut prices even further as Christmas approaches.
· If last year is any indication, gamers may find plenty of Cyber Monday deals this time around.
Who knows, eventually every holiday shopping day may get its own marketing makeover. Some cell phone marketers are already pushing Mobile Tuesday, which follows Cyber Monday. What's next?
Contact Jeff Bertolucci via Twitter (@jbertolucci ) or at jbertolucci.blogspot.com .