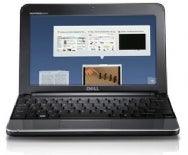 Dell has made available a customized download of Google's Chromium OS (the open-source version of Chrome OS), specifically for its popular Mini 10V netbook.
Google discussed its upcoming operating system (OS) at a recent press event, and released the source code. Since then various builds of Chromium have surfaced online.
Dell made the customized download available Friday, giving all Mini 10V owners the perfect weekend project. All you need to do in order to give Chromium OS a shot is a spare 8GB on a USB flash drive.

Once downloaded, simply move the image onto the flash drive, plug it in-to your Mini 10V, and enjoy. It's worth noting that Dell's custom build is pre-beta and could be unstable.
Unfortunately early reports suggest that the Wi-Fi can act up; it may take up to 15 minutes to locate access points–ironic considering Chrome's Web-centric design. But as Google promised, the boot-up time is reportedly super fast, taking just under 12 seconds.
If you have given Google Chromium OS a try be sure to let us know in the comments!
Direct Download – Dell Mini 10V Build (Google Chromium OS)
Follow GeekTech and Chris Brandrick on Twitter.